What's On
UPCOMING
From September 6th to November 24th, 2021
Garden of e-arthly Delights
Curated by Ruba Al-Sweel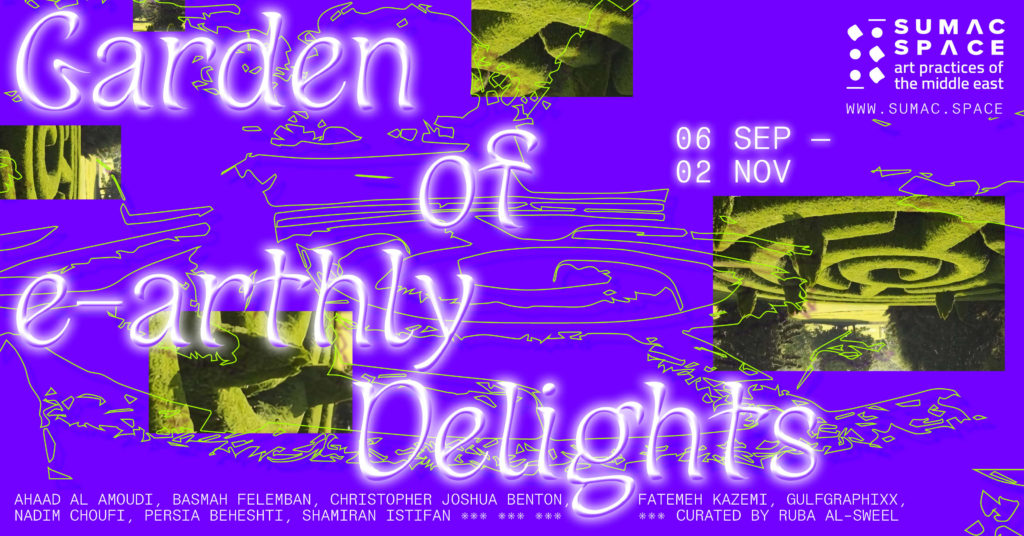 Through video compilation, digital archival material, and moving images, Garden of e-arthly Delights forays into the dark forest of the web to look at what's budding underneath the surface. From viral videos and memelords churning out digital arte povera to new forces that impact market dynamics and political trends, this fertile ground incubates and accelerates fringe movements and a new class of ideologues that together, test what we know.

Showcasing eight artists from, based in or around the GCC, whose works deal with memes as subject and medium, the exhibition explores wider expressions of gathering, ritual and community to discover a new visual communicational landscape that maps out an alternative social terrain, varying definitions of being public and the terms of visibility and power.
PARTICIPANT ARTISTS: Ahaad Alamoudi, b. 1991, Jeddah, Saudi Arabia. Persia Beheshti, b. 1992, UAE. Lives and works in Berlin, Germany. Christopher Joshua Benton, b. 1988. Lives and works between Boston, MA and Dubai, UAE. Nadim Choufi, b. 1994, Abu Dhabi, UAE. Lives and works in Beirut, Lebanon. Basmah Felemban, b. 1993, Jeddah, Saudi Arabia. GulfGraphixx, b. 1997, Riyadh, Saudi Arabia. Shamiran Istifan, lives and works in Zurich, Switzerland. Fatemeh Kazemi, b. 1992, lives and works in Tehran, Iran.
August 12th, 2021
16:35 – 16:50 CEST
Sumac Café
Project presentation in the framework of the Digital Young Curators Academy by Maxim Gorki Theater.
Livestream via YCA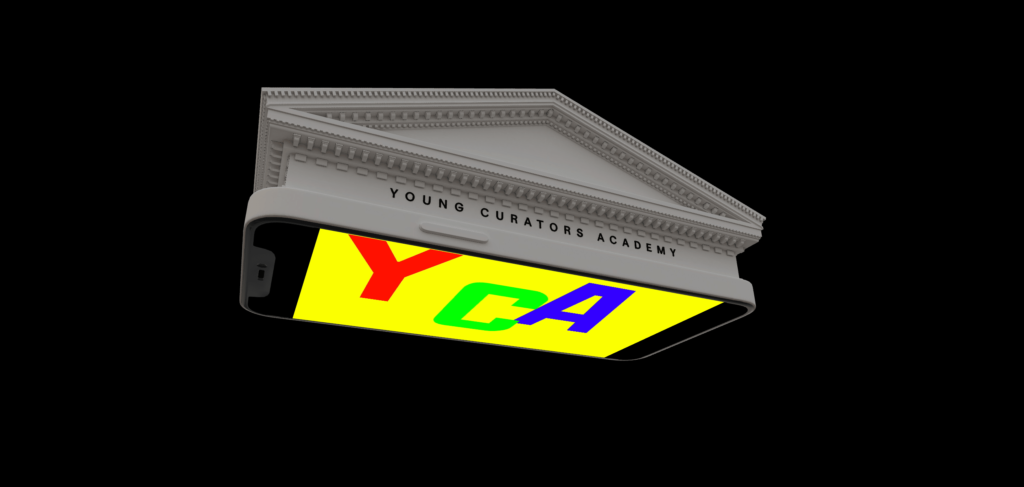 Aligned with the core research of Sumac Space–Art Practices of the Middle East, Sumac Café attempts to form alliances and establish solidarity by examining a specific angle of the Middle East and its political complexities. Sumac Café brings to the fore artists from countries that do not engage in any sort of political exchange. Forming safe-equal conversations, Sumac Café invites artists that challenge the hegemonic, patriarchal tone set by their countries to create dialogue, debate, and examine the forms of resistance their art wishes to ignite.
From June 28th to August 24th, 2021
A Whole Population of Poets
Curated by Davood Madadpoor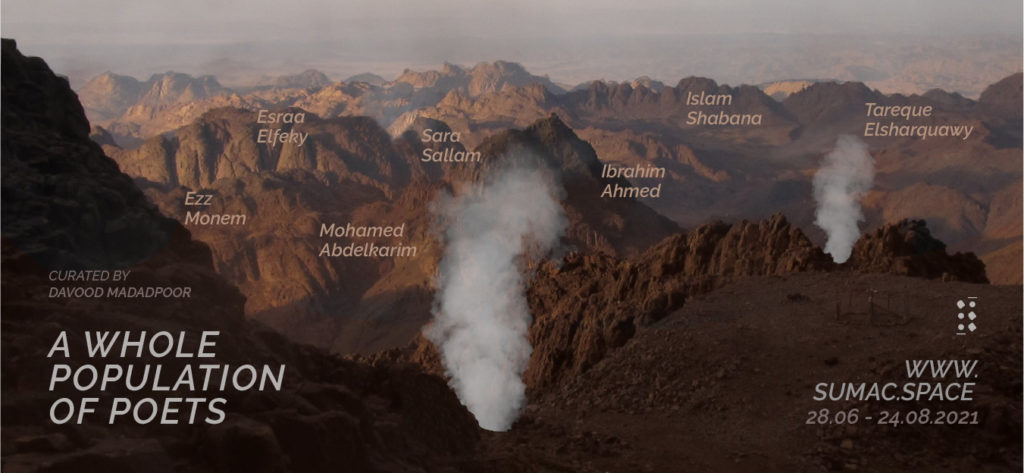 PARTICIPANT ARTISTS: Mohamed Abdelkarim, b. 1983, El Minya, Egypt. Ibrahim Ahmed, b. 1984, Kuwait. Lives and works in Ard El Lewa, Egypt. Esraa Elfeky, b. 1989, Cairo, Egypt. Tareque Elsharquawy, b. 1990, Alexandria, Egypt. Ezz Monem, b. 1985, Cairo, Egypt. Lives and works in Melbourne, Australia. Sara Sallam, b. 1991, Giza, Egypt. Lives and works in Delft, Netherlands. Islam Shabana, b. 1988, Cairo, Egypt.
Open Call #1
Sumac Space Dialogues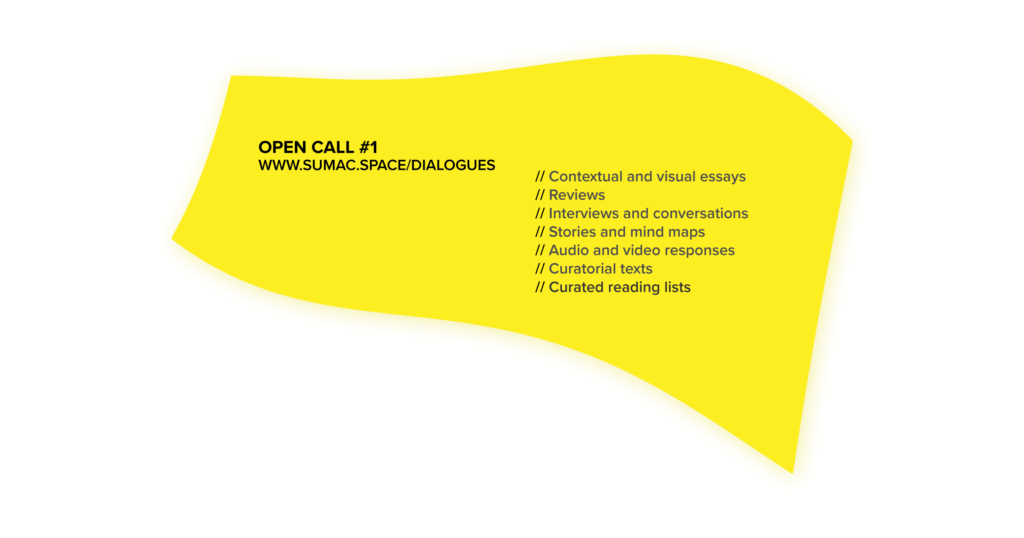 The Dialogues section of Sumac Space is a platform for stimulating interaction and polyvocality, which encourages thinking and speaking nearby one another across physical distance and means of expression. Dialogues is a space of free thought and experimentation in form and content, where the common ground and linking subject are the artists presented in the exhibitions at Sumac Space, and the contemporary urgencies they respond to. Proposals from emerging writers, artists and curators who would like to try new and not-yet-tested strategies in working with text and image in relation to art are particularly welcome.
Sumac Space invites writers, curators, critics, researchers and thinkers to engage with the work of contemporary artists from the Middle East. Responses through research, contextual and visual essays, interviews, poetry, audio, video and hybrid formats are welcome.
Each contributor is free to decide about the form and content of their contribution, while receiving full editorial and English proofreading support. The following means of expression are encouraged:
Contextual and visual essays
Interviews and conversations
Curatorial texts
Reviews
Stories and mind maps using any combination of words, images and sounds
Curated reading lists
Audio and video responses
Please send your proposal (maximum 200 words), a few words about yourself and one of the following: a writing sample/a link to your website/a portfolio to editorial@sumac.space. Submissions are accepted on a rolling basis and deadlines are agreed individually.
PAST
From April 6th to June 15th, 2021
Unconquered Spirits
Curated by Didem Yazıcı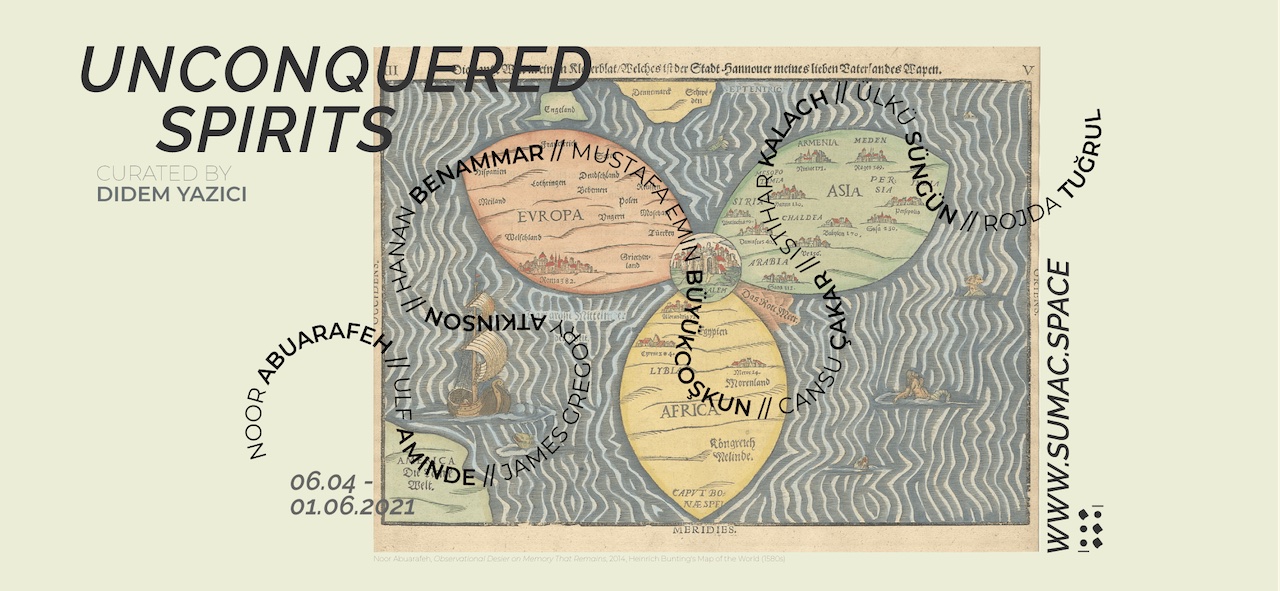 What do forgotten or under-represented events say about history writing and the politics of everyday life? If we trace them, where the personal and collective memories, missing objects or untold stories can lead us today? The works that build this exhibition troubles different forms of power structures such as institution, archive, discrimination and state violence. Questioning the misuse of power dynamics and unsettling the internalized racist structures, Unconquered Spirits brings together works by artists Noor Abuarafeh, Ulf Aminde, James Gregory Atkinson, Hanan Benammar, Mustafa Emin Büyükcoşkun, Cansu Çakar, Istihar Kalach, Rojda Tuğrul and Ülkü Süngün. At a time when social, political and environmental injustices seem overpowering, we tend to lose hope, hope for more equality, justice and fresh air to breath. In "Hope In The Dark", a book that traces a history of activism and social change over the past decades, writer Rebecca Solnit wrote "Resistance is first of all a matter of principle and a way to live, to make yourself one small republic of unconquered spirits. You hope for results, but you don't depend on them." Whether through a journey of solidarity; an ancient mosaic from Hagia Sophia; an unwritten part of the Middle Eastern art history; a juxtaposition of the black power fist and the white power salute; a documentation of the historical site, Hasankeyf before its destruction; a mask eating Romulus and Remus; problematizing the term 'desert ideology' or a fictional monolog about the radical invention of institutions and self-governing, each work in the exhibition manifests a form of an unconquered spirit. Each of these works has its own protest nature and distinctive language of storytelling based on personal experiences or witnesses.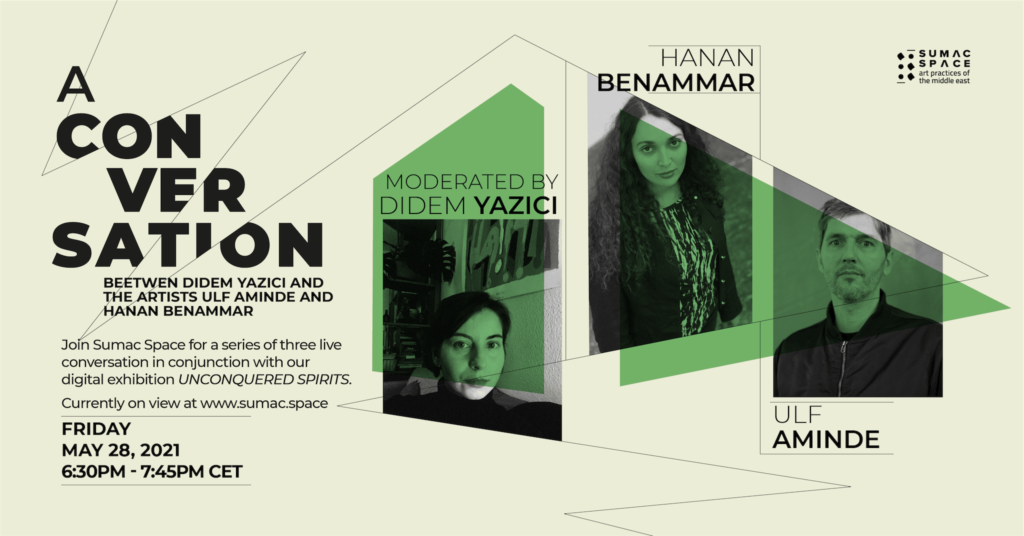 Each of the two works by Hanan Benammar and by Ulf Aminde has its own protest nature and distinctive language of storytelling based on personal experiences or witnesses. The curator of our current exhibition Didem Yazıcı will be in conversation with the artists about their artistic methodologies and their works exhibited in the show.
In his performative film work, Ulf Aminde deals with power structures and existing systems, first and foremost the institutions. Through the style of an undercover video with darkened body and special effect to alter the voice, the viewer is given the impression that the person talking is involved in an illegal act or for some other reason doesn't want to be known. In a mysterious way, as this character speaks, it becomes clear that the main question being raised is whether radicality consists of initiating one's own institutions or whether it is a matter of changing the institutions from the inside. Hanan Benammar, on the other hand, directly responds to the term "desert ideology," which is used to describe Islamic culture by far-right circles. By naming her installation piece with the same title, Benammar turns the far-right term upside down. In her work, she brings the archival and image materials that she has collected over thirteen years of travels to desert areas into a poetical constellation.
The works by the artists Ülkü Süngün and Mustafa Emin Büyükcoşkun all take place in specific locations and histories and deal with underrepresented matters. Curator of the current exhibition Didem Yazıcı and arts writer and researcher Ruba Al-Sweel will be in conversation with the artists about their artistic methodologies and their works that are exhibited in the current exhibition Unconquered Spirits.
Ülkü Süngün's photo novel project "The Best Novels Are Written by Life / Anlatsam Roman Olur" (2015) narrates the delicate story of Sergo Pipia and Marina Tsertsvadze, a refugee couple from Georgia who lived in a small town near Stuttgart, Germany, before they took back their asylum application and returned, disillusioned, to their homeland. Each of the three artists focuses on particular histories in the cities they have a personal connection to – Jerusalem, Batman (Hasankeyf), and Stuttgart – and each of them is based on their own individual curiosities driven by overlooked topics. Mustafa Emin Büyükcoşkun's work "Set Off"(2019) handles a sensitive topic in an immensely careful, poetic, and mindful way – not only because it is a highly politically engaged theme he is dealing with but also more importantly because it is about a journey where innocent people were killed. In 2015, thirty-three activists from different generations from across Turkey had been planning to travel to Kobane, a Kurdish town on the Syrian border, to help with rebuilding the town after it was hit by IS. Through a bus ride, conversations, and anecdotes, the work becomes increasingly relatable. As opposed to labeling people as radicals or terrorists, it touches a deeply humane part of the entire story.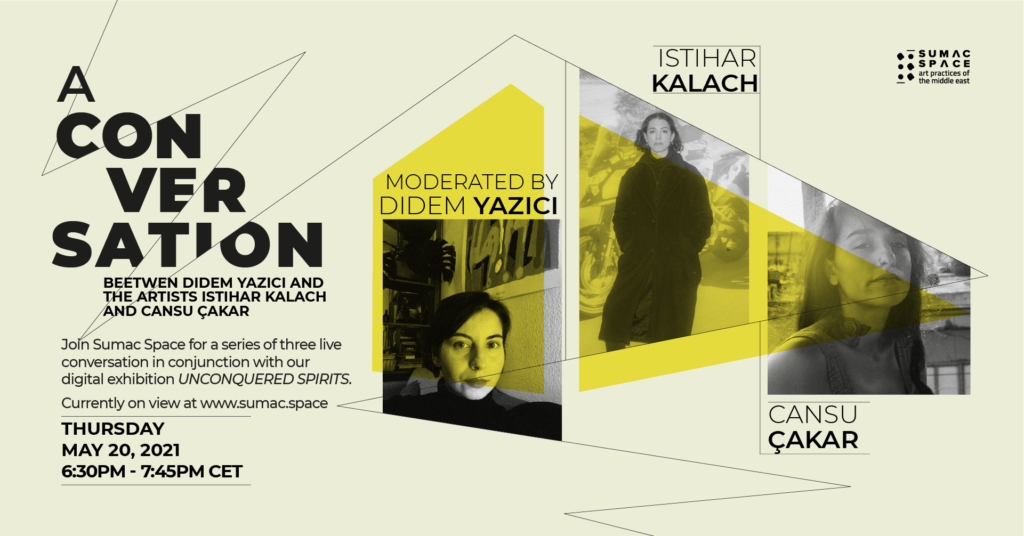 Subtle uneasiness, absurdity and humor; the paintings of Istihar Kalach and Cansu Çakar represent social-critique and dream-like lightness at the same time. Curator of our current exhibition Didem Yazıcı will be in conversation with the artists about their artistic methodologies and their works exhibited in the show.
Istihar Kalach's oil and acrylic paintings are not afraid of subtle uneasiness or absurdity; she modifies the objects and plays with the way we look at things. In her paintings, there is often a sense of duality. The mask paintings, for example, have four eyes: two black, referring to blindness and two melting eyes, referring to unclear visions and misunderstandings. While Stolen Tears (2021) subtly refers to legacies of colonialism, the Europemask (2021) represents a kind of blankness of dominant cultural narratives. Cansu Çakar, on the other hand, challenges the stereotypical subjects and classifications in traditional decorative drawing technique. Questioning what it means to be a woman or anyone who feels themselves a woman, or a prisoner in an oppressive regime, her drawings are fictional or based on real-life incidents. Her painting Wash your sins not only your face (2019) is inspired by a fountain mosaic at the entrance of Hagia Sophia in Istanbul which originally reads as "Nipson anomemata mi monan opsin" ("ΝΙΨΟΝΑΝΟΜΗΜΑΤΑΜΗΜΟΝΑΝΟΨΙΝ"), a Greek palindrome attributed to Gregory of Nazianzus (AD. 329–390). Not only is it related to resistance but the phrase also refers to the two faces of morality, religion, and authority.
March 18, 2021, 20:00 CET
Finissage Live Performance
The Bed Series by Maya Perry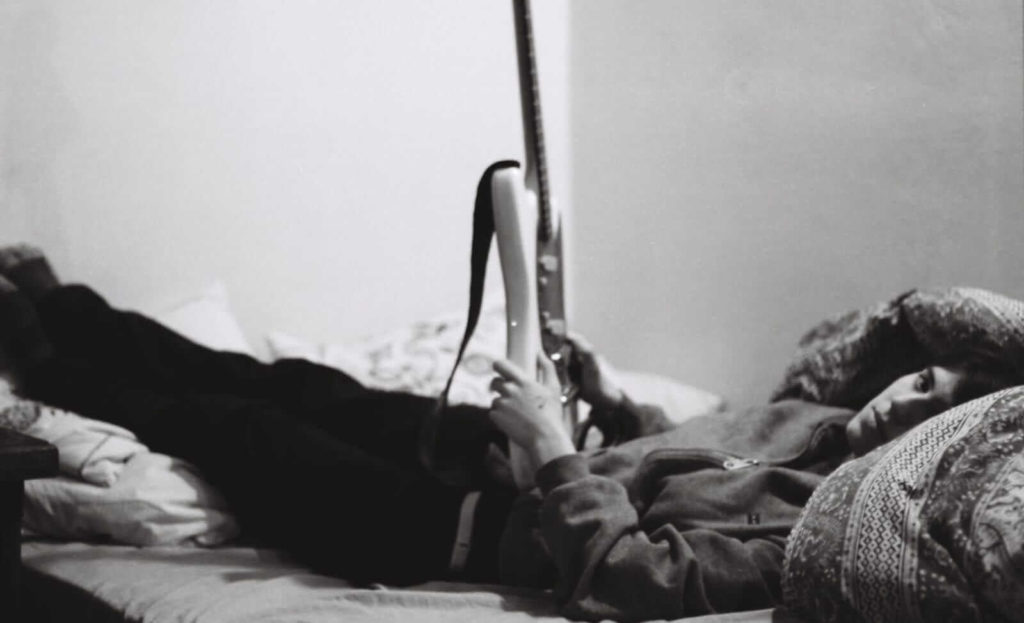 In celebration of the finissage of the exhibition Present Imperfect, artist Maya Perry will be playing an intimate live performance from Perry's Bedroom. Inspired by Perry's project "Bed Series", on view in Present Imperfect, the improvised performance will be made up of experimental ambient sounds alongside beats and voice recordings of the other participants in the exhibition, describing their beds.
Join to experience the music and texts in a completely new way, online, within your own room, even from your own bed.
ON ONGOING, a series of five artist conversations in conjunction with our three digital exhibitions Present Continuous, Past Continuous, and Present Imperfect.
In the upcoming conversations Sumac Space will bring the artists together in new constellations and elaborate on their connection to the core questions addressed in the digital exhibitions Present Continuous, Past Continuous, and Present Imperfect. What connects the works in these exhibitions is the artistic practice that marks a tension by interrogating and recasting everyday objects and events to draw out their relationships to contemporary experience in a landscape of successive social and political change. Apart from the imminent need to consider the historical context out of which this current state of affairs has emerged, the chosen works reflect on contemporaneity as a concept that captures the frictions of the present.
March 3rd, 2021, 19:00 CET
Azita Moradkhani, Farzaneh Hosseini and Maya Perry in conversation with Christine Bruckbauer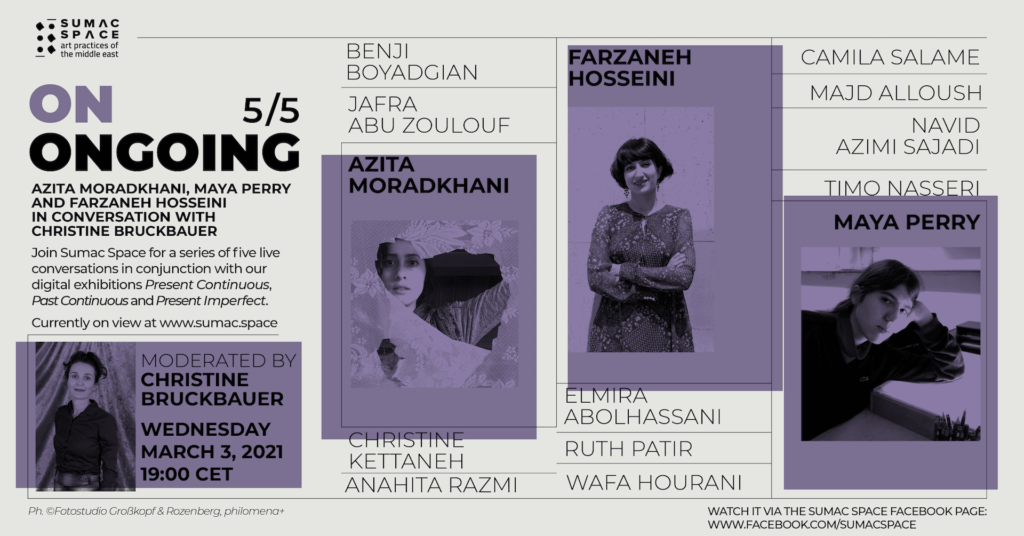 Christine Bruckbauer (born in Steyr, Austria) is a curator, art writer and university lecturer with the focal research point of contemporary art practices in North Africa, South and West Asia. With a sociological approach of art observation and an interest in transnational and postcolonial cultural-political developments, she is dedicated to initiating artistic and sociopolitical dialogues. She completed her doctorate in art history at the University of Vienna, and worked as a curator at the Secession, Vienna. She also taught at the School of Oriental and Asian Studies in London, at the Manouba University in Tunis, and at the University of Vienna. Together with Negar Hakim, she founded the art and architecture platform philomena+ in 2016. Today she works as visual arts programme director for Philomena+
February 24th, 2021, 19:00 CET
Camila Salame and Christine Kettaneh in conversation with Amanda Abi Khalil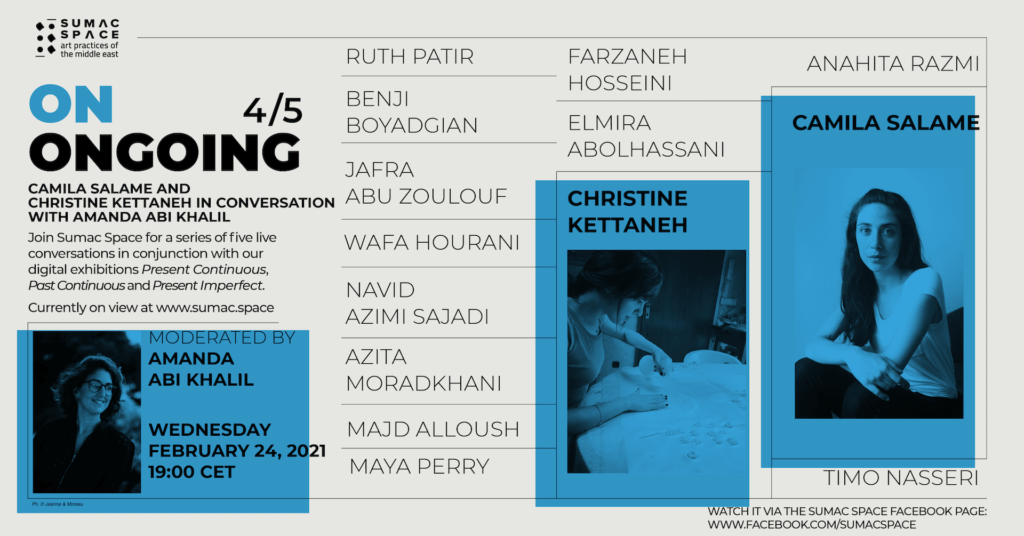 Amanda Abi Khalil is an independent art worker based between Beirut and Rio de Janeiro whose work focuses on socially engaged practices. She is the founder of Temporary Art Platform, a non-profit that aims to shift artistic and curatorial discourse towards social and contextual concerns through residencies, research projects, and commissions.
Her recent curated projects include Make yourself at home: radical care and hospitality an emergency relief project in collaboration with Kaaysa art residency, Boiçucanga; www.covideo19.art; Living Room (UIT): Use it Together at ISCP, New York; Chou Hayda, When all seemingly stands still, GreyNoise, Dubai; Simple past, perfect futures; images in countershot at the Centquatre, Paris; Pippera, pipperoo, pipperum at Meinblau in Berlin amongst others.
She held teaching positions at the American University of Beirut (AUB) the Lebanese Academy of Fine Arts (ALBA) and the Saint Joseph University (USJ) in Beirut and curated exhibitions, public art commissions and other social practice related formats in and with International art institutions.
Previously she was the curator of the Hangar Umam D&R, Beirut an independent art space focusing on archive-based practices. Her current research revolves around the theme of hospitality and guest-host relations tackling forms of migrations in and between contexts such as the Middle-East, North Africa and Latin America.
February 18th, 2021, 19:00 CET
Benji Boyadgian, Elmira Abolhassani and Majd Alloush in conversation with Başak Şenova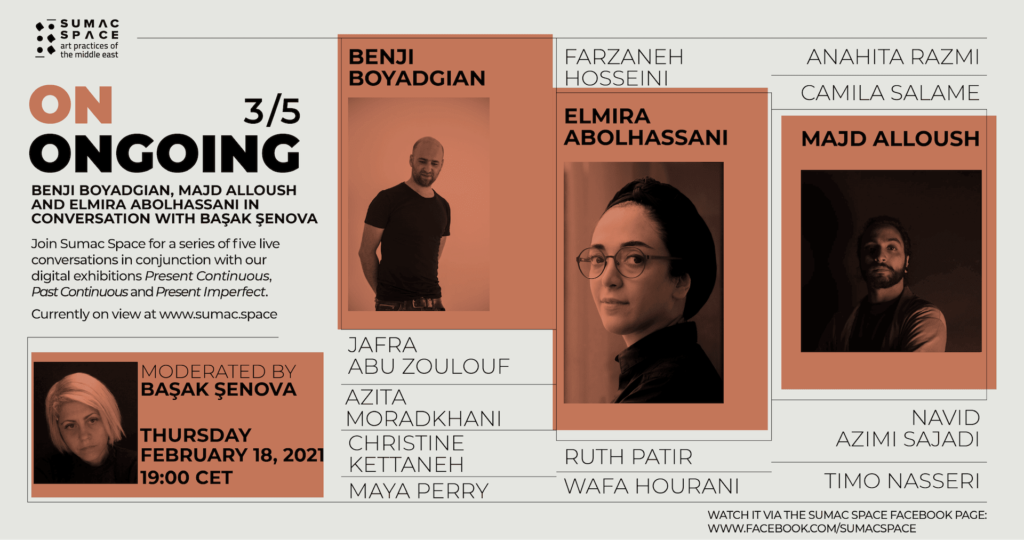 Başak Şenova is a curator and designer. She studied Literature and Graphic Design (MFA in Graphic Design and Ph.D. in Art, Design and Architecture at Bilkent University) and attended the 7th Curatorial Training Programme of Stichting De Appel, Amsterdam. Senova has been writing on art, technology and media, initiating and developing projects and curating exhibitions since 1995. She is one of the founding members of NOMAD, as well as the organizer of "ctrl_alt_del" sound art project and "Upgrade!Istanbul". Senova acts as the Turkish correspondent of Flash Art International and a member of the editorial board of Pass, International Biennial Association's (IBA) journal. Senova acted as an advisory board member of the Turkish Pavilion in Venice Biennial, Biennial of Contemporary Art, D-0 ARK (BiH) and also the Istanbul Biennial. She was the curator of the Pavilion of Turkey at the 53rd Venice Biennale. Senova completed a long-term research-based art project CrossSectionsthat took place in Vienna, Helsinki, and Stockholm (2017- 2019). At the moment, as a Visiting Professor, she is running "The Octopus Programme" with Barbara Putz-Plecko at the University of Applied Arts Vienna. https://basaksenova.com
February 10th, 2021, 19:00 CET
Timo Nasseri, Navid Sajadi Azimi and Ruth Patir in conversation with Neil van der Linden
Neil van der Linden curates music, theatre and visual arts projects related to the Middle-East and North-Africa. He worked as music advisor with Paradiso Amsterdam, the Holland Festival, the RO theatre Rotterdam and the Royal Concertgebouw Amsterdam, the Beiteddine Festival Lebanon, the Festival of Sacred Music in Fes Morocco and the Abu Dhabi Book Fair, the New York University Abu Dhabi and the Hong Kong Municipality Festival. He introduced several Dutch and Belgian theatre companies to the Fajr Theatre Festival Iran and the IIFUT Iran International Festival of University Theatre and vice-versa several Iranian theatre productions and theatre makers to the Dutch and Belgian audiences. He founded and co-edits the online Gulf Art Guide and the Amsterdam Medina site on activities in and from the Middle-East in Amsterdam.
February 3rd, 2021, 19:00 CET
Wafa Hourani, Anahita Razmi and Jafra Abu Zoulouf in conversation with Nat Muller
Nat Muller is an independent curator and writer with an expertise in contemporary art from the Middle East. Recent projects include: the Danish Pavilion with Palestinian artist Larissa Sansour for the 58th Venice Biennale in 2019, the group show Trembling Landscapes: Between Reality and Fiction at Eye FilmMuseum in Amsterdam, and Kurdish-Iraqi artist Walid Siti's first monograph, published by Kehrer Verlag in 2020. Her writing has been published amongst others in Springerin, MetropolisM, Bidoun, ArtAsiaPacific, Art Papers, Hyperallergic, Canvas, X-tra, The Majalla, Art Margins, Harper's Bazaar Arabia, Ibraaz, and Ocula. She has also written numerous catalogue and monographic essays. She is completing an AHRC-funded PhD on science fiction in contemporary visual practices in the Middle East at Birmingham City University. http://www.natmuller.com