What's On
UPCOMING
---
ON ONGOING, a series of five artist conversations in conjunction with our three digital exhibitions Present Continuous, Past Continuous, and Present Imperfect.
In the upcoming conversations Sumac Space will bring the artists together in new constellations and elaborate on their connection to the core questions addressed in the digital exhibitions Present Continuous, Past Continuous, and Present Imperfect. What connects the works in these exhibitions is the artistic practice that marks a tension by interrogating and recasting everyday objects and events to draw out their relationships to contemporary experience in a landscape of successive social and political change. Apart from the imminent need to consider the historical context out of which this current state of affairs has emerged, the chosen works reflect on contemporaneity as a concept that captures the frictions of the present.
---
March 3rd, 2021, 19:00 CET
Azita Moradkhani, Farzaneh Hosseini and Maya Perry in conversation with Christine Bruckbauer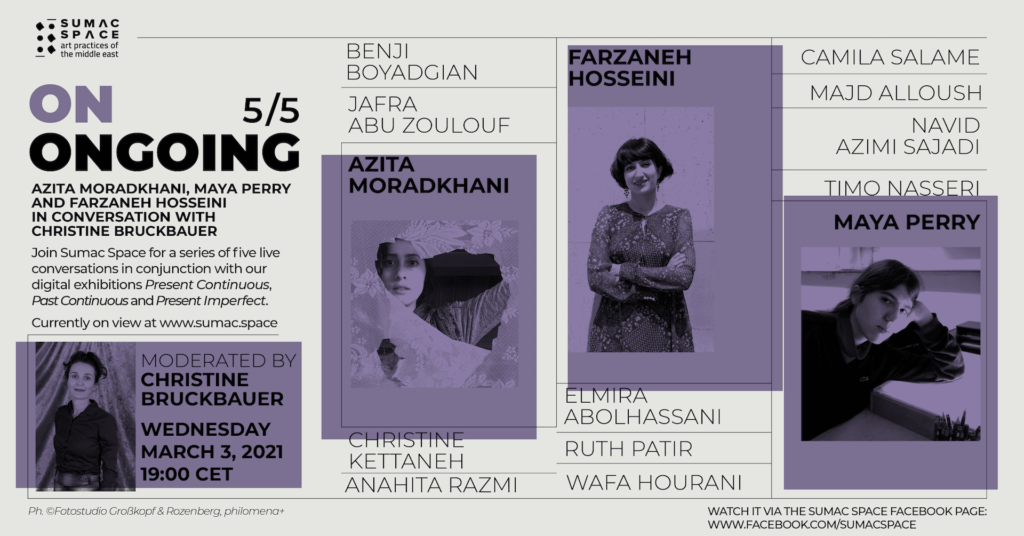 Christine Bruckbauer (born in Steyr, Austria) is a curator, art writer and university lecturer with the focal research point of contemporary art practices in North Africa, South and West Asia. With a sociological approach of art observation and an interest in transnational and postcolonial cultural-political developments, she is dedicated to initiating artistic and sociopolitical dialogues. She completed her doctorate in art history at the University of Vienna, and worked as a curator at the Secession, Vienna. She also taught at the School of Oriental and Asian Studies in London, at the Manouba University in Tunis, and at the University of Vienna. Together with Negar Hakim, she founded the art and architecture platform philomena+ in 2016. Today she works as visual arts programme director for Philomena+
---
Open Call #1
Sumac Space Dialogues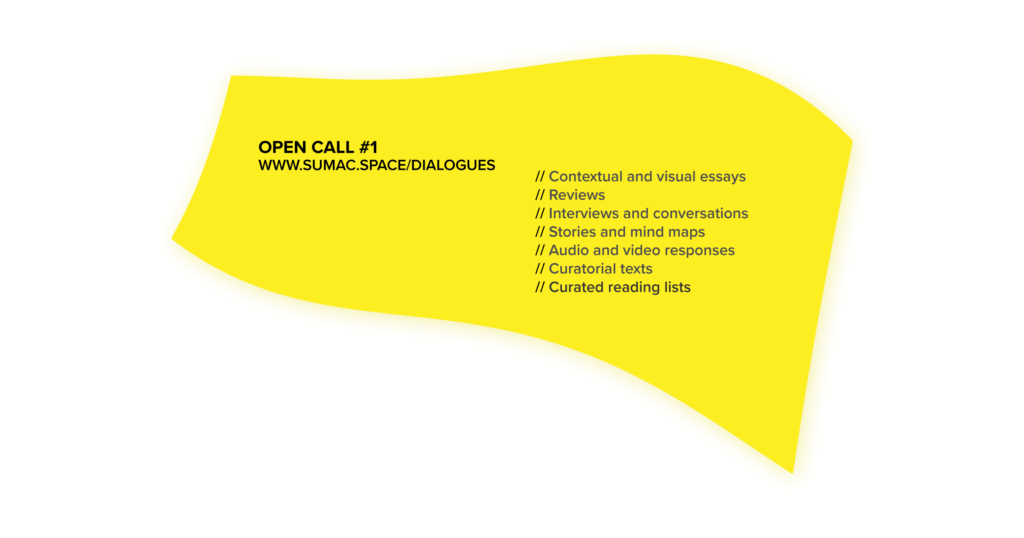 The Dialogues section of Sumac Space is a platform for stimulating interaction and polyvocality, which encourages thinking and speaking nearby one another across physical distance and means of expression. Dialogues is a space of free thought and experimentation in form and content, where the common ground and linking subject are the artists presented in the exhibitions at Sumac Space, and the contemporary urgencies they respond to. Proposals from emerging writers, artists and curators who would like to try new and not-yet-tested strategies in working with text and image in relation to art are particularly welcome.
Sumac Space invites writers, curators, critics, researchers and thinkers to engage with the work of contemporary artists from the Middle East. Responses through research, contextual and visual essays, interviews, poetry, audio, video and hybrid formats are welcome.
Each contributor is free to decide about the form and content of their contribution, while receiving full editorial and English proofreading support. The following means of expression are encouraged:
Contextual and visual essays
Interviews and conversations
Curatorial texts
Reviews
Stories and mind maps using any combination of words, images and sounds
Curated reading lists
Audio and video responses
Please send your proposal (maximum 200 words), a few words about yourself and one of the following: a writing sample/a link to your website/a portfolio to editorial@sumac.space. Submissions are accepted on a rolling basis and deadlines are agreed individually.
Jaroslava Tomanova, Co-Editor
PAST
---
February 24th, 2021, 19:00 CET
Camila Salame and Christine Kettaneh in conversation with Amanda Abi Khalil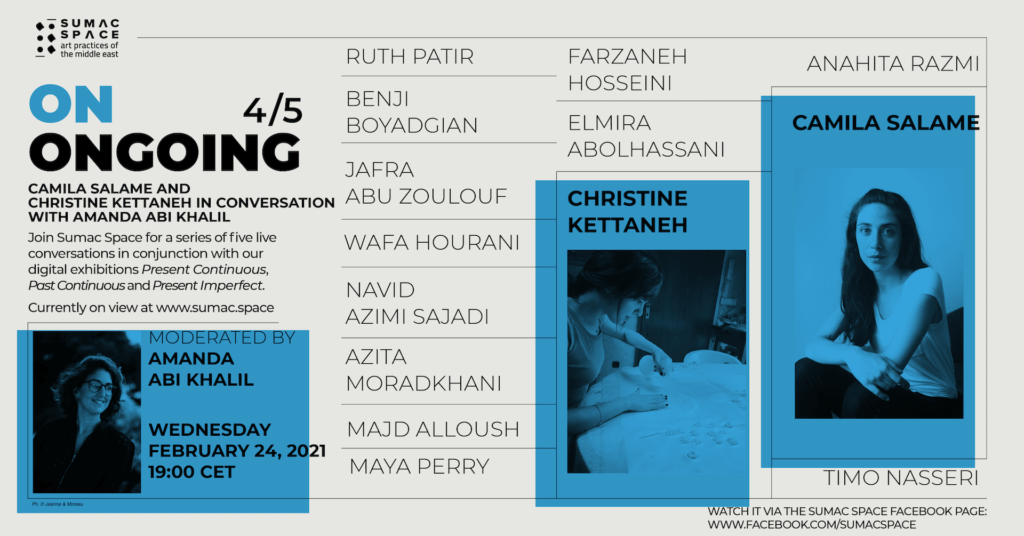 Amanda Abi Khalil is an independent art worker based between Beirut and Rio de Janeiro whose work focuses on socially engaged practices. She is the founder of Temporary Art Platform, a non-profit that aims to shift artistic and curatorial discourse towards social and contextual concerns through residencies, research projects, and commissions.
Her recent curated projects include Make yourself at home: radical care and hospitality an emergency relief project in collaboration with Kaaysa art residency, Boiçucanga; www.covideo19.art; Living Room (UIT): Use it Together at ISCP, New York; Chou Hayda, When all seemingly stands still, GreyNoise, Dubai; Simple past, perfect futures; images in countershot at the Centquatre, Paris; Pippera, pipperoo, pipperum at Meinblau in Berlin amongst others.
She held teaching positions at the American University of Beirut (AUB) the Lebanese Academy of Fine Arts (ALBA) and the Saint Joseph University (USJ) in Beirut and curated exhibitions, public art commissions and other social practice related formats in and with International art institutions.
Previously she was the curator of the Hangar Umam D&R, Beirut an independent art space focusing on archive-based practices. Her current research revolves around the theme of hospitality and guest-host relations tackling forms of migrations in and between contexts such as the Middle-East, North Africa and Latin America.
---
February 18th, 2021, 19:00 CET
Benji Boyadgian, Elmira Abolhassani and Majd Alloush in conversation with Başak Şenova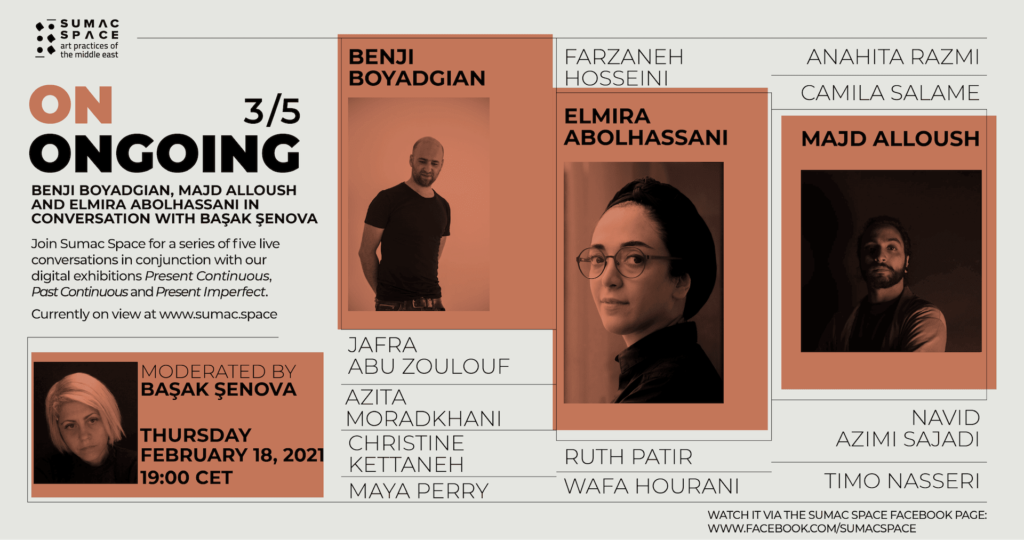 Başak Şenova is a curator and designer. She studied Literature and Graphic Design (MFA in Graphic Design and Ph.D. in Art, Design and Architecture at Bilkent University) and attended the 7th Curatorial Training Programme of Stichting De Appel, Amsterdam. Senova has been writing on art, technology and media, initiating and developing projects and curating exhibitions since 1995. She is one of the founding members of NOMAD, as well as the organizer of "ctrl_alt_del" sound art project and "Upgrade!Istanbul". Senova acts as the Turkish correspondent of Flash Art International and a member of the editorial board of Pass, International Biennial Association's (IBA) journal. Senova acted as an advisory board member of the Turkish Pavilion in Venice Biennial, Biennial of Contemporary Art, D-0 ARK (BiH) and also the Istanbul Biennial. She was the curator of the Pavilion of Turkey at the 53rd Venice Biennale. Senova completed a long-term research-based art project CrossSectionsthat took place in Vienna, Helsinki, and Stockholm (2017- 2019). At the moment, as a Visiting Professor, she is running "The Octopus Programme" with Barbara Putz-Plecko at the University of Applied Arts Vienna. https://basaksenova.com
---
February 10th, 2021, 19:00 CET
Timo Nasseri, Navid Sajadi Azimi and Ruth Patir in conversation with Neil van der Linden
Neil van der Linden curates music, theatre and visual arts projects related to the Middle-East and North-Africa. He worked as music advisor with Paradiso Amsterdam, the Holland Festival, the RO theatre Rotterdam and the Royal Concertgebouw Amsterdam, the Beiteddine Festival Lebanon, the Festival of Sacred Music in Fes Morocco and the Abu Dhabi Book Fair, the New York University Abu Dhabi and the Hong Kong Municipality Festival. He introduced several Dutch and Belgian theatre companies to the Fajr Theatre Festival Iran and the IIFUT Iran International Festival of University Theatre and vice-versa several Iranian theatre productions and theatre makers to the Dutch and Belgian audiences. He founded and co-edits the online Gulf Art Guide and the Amsterdam Medina site on activities in and from the Middle-East in Amsterdam.
---
February 3rd, 2021, 19:00 CET
Wafa Hourani, Anahita Razmi and Jafra Abu Zoulouf in conversation with Nat Muller
Nat Muller is an independent curator and writer with an expertise in contemporary art from the Middle East. Recent projects include: the Danish Pavilion with Palestinian artist Larissa Sansour for the 58th Venice Biennale in 2019, the group show Trembling Landscapes: Between Reality and Fiction at Eye FilmMuseum in Amsterdam, and Kurdish-Iraqi artist Walid Siti's first monograph, published by Kehrer Verlag in 2020. Her writing has been published amongst others in Springerin, MetropolisM, Bidoun, ArtAsiaPacific, Art Papers, Hyperallergic, Canvas, X-tra, The Majalla, Art Margins, Harper's Bazaar Arabia, Ibraaz, and Ocula. She has also written numerous catalogue and monographic essays. She is completing an AHRC-funded PhD on science fiction in contemporary visual practices in the Middle East at Birmingham City University. http://www.natmuller.com