A conversation between artist Azita Moradkhani and Niklas Wolf
It could be argued that textile mediums almost by definition are associated with various communicative dimensions (cf. e.g. Harney, Elizabeth et al., eds.: Inscribing Meaning: Writing and Graphic Systems in African Art, Milan 2012). Tradition-based processes of production and modes of reception are often in the true sense of the word intertwined with certain practices of storytelling, be it in the process of making them or while performing them when being worn. What kind of stories do your representations of textiles tell?
In my drawings, unexpected images incorporated in intimate apparel intend to bring humor, surprise, and a shock of recognition. Layers of shadowy images reveal stories, with the hope of leaving a mark on the audience. Two worlds – birthplace and adopted home – live alongside each other in my work, joining intimately at a single point.
My colored pencil drawings of intimate lingerie, negligees, and corsets explore interconnected narratives of pain and pleasure through abstract patterns and images based on photojournalism, art photography, and historical symbolism. I use eroticism to seduce the viewer, who finds, upon closer inspection, through the layers of colored pencil, past the details of lace and filigree, disruptive iconography narrating inherited histories of nation and belief.
Your drawings especially make use of one specific color each, which in my view calms them down visually – often in sharp contrast to their imagery – and therefore makes them more intriguing. Is there any meaning behind the monochromaticity of the images?
The details in my drawings are somehow overwhelmed with repeated abstract patterns of lace intertwined with shadowy figures. Choosing the right color for each piece is an important part of my art-making process. I try to stay away from a variety of colors and instead focus on one color that psychologically fits best in my mind with the piece. Sometimes, after working for forty hours on a drawing, I tear it apart only because the one color I've chosen doesn't feel like a good fit for the piece. While the drawings are monochromatic, the layers of tonality with colored pencil bring the complexity of the presentation in their subtle way.
Pompeian red (it's a shade of mauve with fleshy, bodily associations) and Indanthrene blue in Faber-Castell colored pencil are two colors that I use in most of my drawings. I found out later about their ironic connection with the stereotypical gender colors.
In the drawing Labour (2020) you intertwine a representation of femininity – a silky, light-as-a-feather-looking, maybe see-through nightgown – with the image of rough and heavy, patched working clothes. Both the bodies of women and workers are often exploited, forced and part of economic and global networks of consumption. What are your thoughts on these layers of meaning that one could see in such an image?
The image of heavy, patched working clothes in this drawing is based on a photograph of an Iranian photojournalist and artist, Kaveh Golestan, in Kaveh Golestan: Recording the Truth in Iran 1950–2003. The photo, which depicts a young worker boy, is shown alongside Golestan's other photographs of sex workers in Shahr-e No in Iran before the Islamic Revolution in 1979. The abuse of the body, all along the gender spectrum, by societies for economic and political reasons is the basis of this drawing.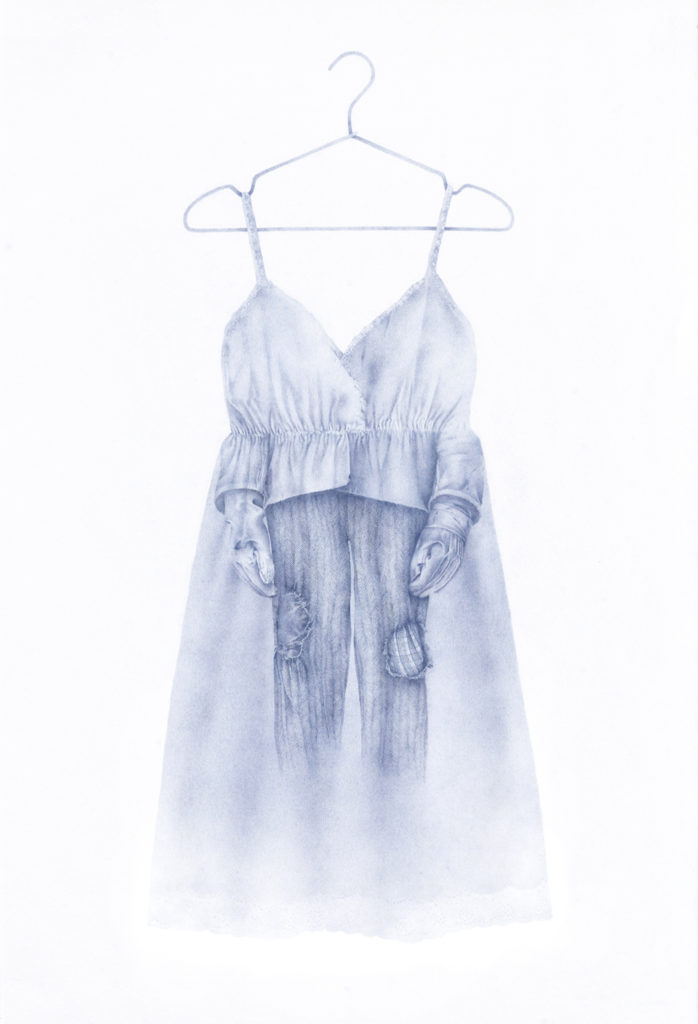 In Enlightenment (2018) you show a Christian cross being a decorative part of lace lingerie, supposed to cover those body parts received as most female. What are your thoughts on religion and body images, the concealing and revealing of bodies, normalized religious (and often resulting political) concepts?
This drawing is about the notion of "religion" in general and the way it has suppressed women in many ways over the course of history. The vertical light on the cross finds its way out from the area on the lingerie covering the vagina to highlight the question of creation and the concept of god.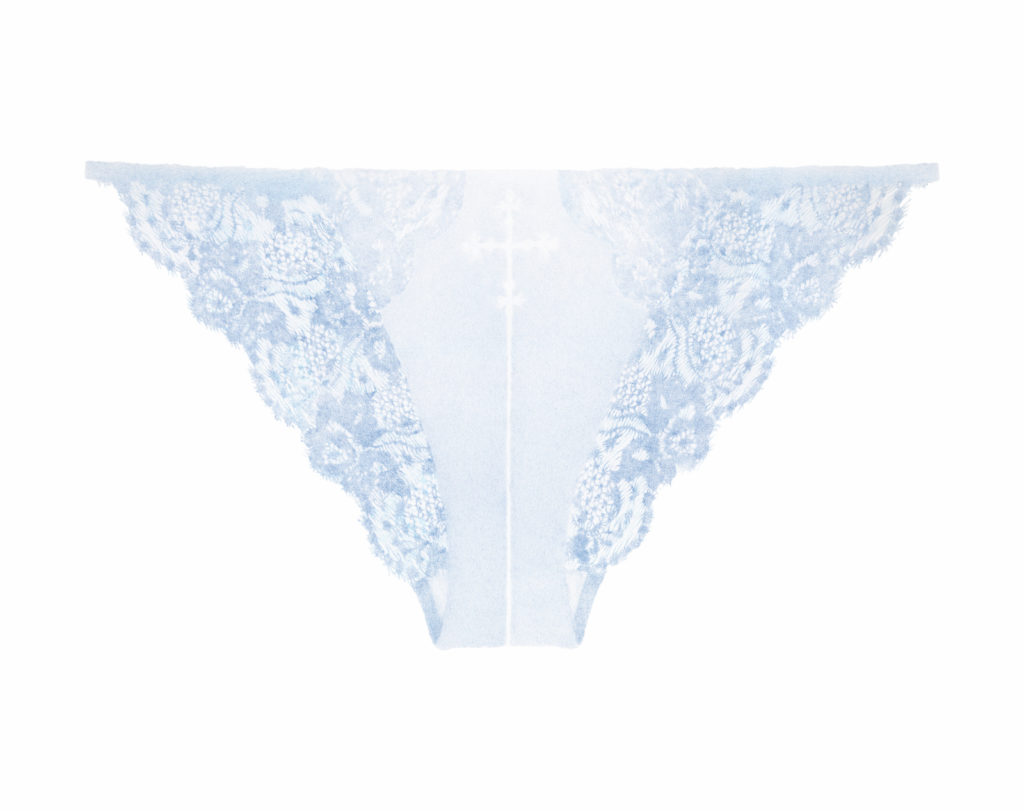 How to dress and/or undress bodies in public and private can be a highly charged and politicized topic. What do your images reveal about the differentiation and connection of the private and the public as social constructs, strongly connected to images of the body? Would you even make such a dichotomic distinction between the two?
My series of intimate apparel – lingerie, negligee, and nightgown – depicts the connecting narratives of how we experience life in private and how we express it, emotionally and physically, in public. Coming from a culture with a significant border between private and public, I create a bridge between these two worlds and invite the viewers to think about hidden experience versus what is made accessible in their own lives.
For the most part you are using a very beautiful materiality and a beautifying formal approach. Especially in drawings like Labour (2020) the concept of beauty seems to be only available for some. What are your thoughts on the concept of beauty and the body? How would that concept be performed differently in the private versus the public?
My drawings on paper and casts of my body represent a non-Western aesthetics of pleasure and beauty. Growing up in Tehran, I was exposed to Persian art and culture, as well as recent Iranian politics, and that double exposure increased my sensitivity to the dynamics of vulnerability and violence that I explore in my work and art-making process. Working at the intersections of drawing and sculpture, I locate my work in a feminist response to Edward Said's Orientalism: ideas of womanhood in the post-colonial world and the post-revolution generation in Iran intertwine with conflicts at the borders of tradition and (post)modernity. Meanwhile, I pursue beauty and realism in contemporary art by deploying formality, virtuosity, and delicacy, connecting my work aesthetically to art of the past. In my sculptural work, through the images drawn on body casts, I mix imagery – tattoos of memory and history – to emphasize both inter- and dis-connections between sexual representation and national identity, between the public and the private.
Both body and artifacts can be thought of places for the accumulation and sedimentation of history. What does that mean for your work, mentioning terms and concepts like tradition and (post)modernity – especially thinking of the very strong interconnection between body and image (the performative narrated through fashion, for example)?
As Wangechi Mutu says, "Females carry the marks, language, and nuances of their culture more than the male. Anything that is desired or despised is always placed on the female body."
My series of colored pencil drawings of intimate apparel is based on my first impressions from walking into a Victoria's Secret store in the US. While being exposed to this public environment full of intimate lingerie, I was not only thinking about the power of censorship (including lingerie stores) in my country, Iran, but I also felt intimidated by the body image of a woman through the models and design. While my drawings are inspired by luxury intimate lingerie, the images on them depict global stories of different experiences – both figuratively and symbolically – across borders.
Also, my recent drawings are related to my own roots and inspired by the work of artists whom I admire – such as Louise Bourgeois, who says, "Clothing is a metaphor of the years that pass. For me fashion is the experience of living in this dress, in these shoes." I have incorporated images from a private collection of Iranian Qajar-era historical photographs. As photography became more democratized and made its way to the Middle East, the medium was used to transgress cultural taboos: images of real people to be viewed for pleasure. While these photographic images of nude women with Westernized elements such as angel wings and European garden backgrounds, indicate the permeation of Western culture into Iranian norms, my drawings of them – inspired both by historical photography and contemporary photorealism – emphasize the clash of disparate cultural conventions of beauty.
In a different piece, Irezumi, a fellow Japanese-American artist, Jeremy Endo, and I staged a durational performance to create a representation of Orientalism over Endo's body in the style of irezumi, the art of Japanese tattooing. The performance was after the event in 2015 when protesters complained of racism and cultural appropriation to the Museum of Fine Arts' "Kimono Wednesdays" program. Jeremy Endo and I used ritual performance and the practice of painting to document and evoke conversations between communities of color and institutions. Here, both body and the kimono as an artifact can be thought of places for the accumulation and sedimentation of not only the past but also our current lived experience.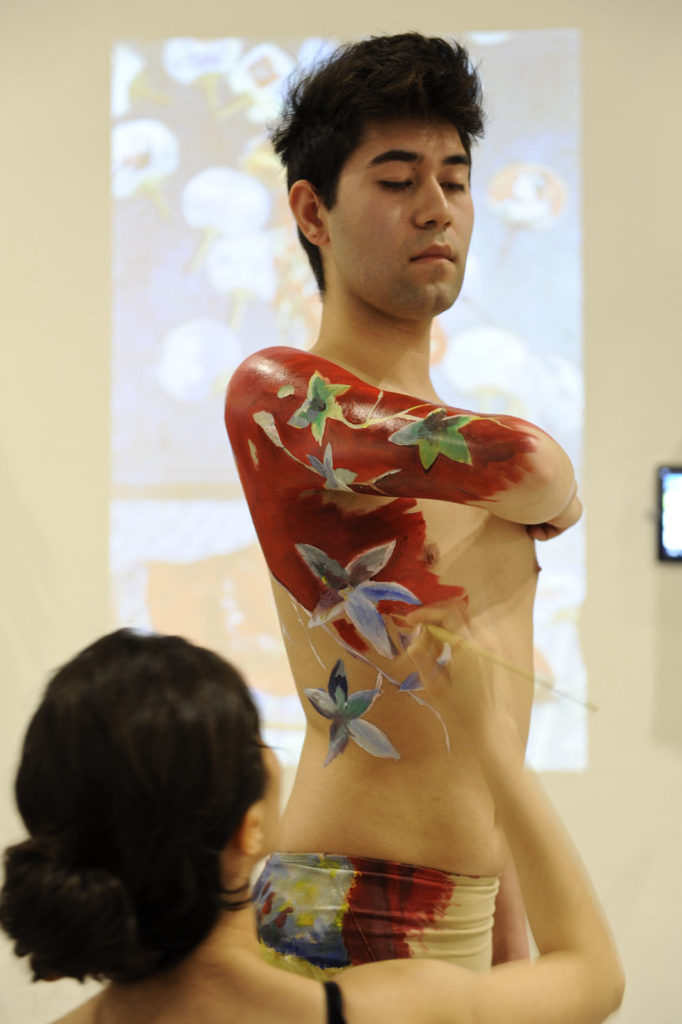 In some works, you seem to interconnect attributes and images which are in society strongly connected to either concepts of masculinity or femininity (like a bearded man growing out of laces in Swimmer (2020) or distinct parts of male physiognomic features like a mustache becoming part of a laced bustier in Blue Pilot (2020)). What kind of idea of both concepts – femininity and masculinity – could be drawn from your work? What is the meaning of using fragile media like underwear and a very delicate and fine formal approach to deal with those questions? In Blue Mustache (2020) the male beard seems to kind of disappear inside the transparent negligee, blurring those artificial lines.
The contrast between stereotypically feminine and masculine qualities in my work confronts the dualities of power and vulnerability, Orientalism and feminism, political rhetoric and actual lived experience. Through my drawings and new project of actual designed intimate apparel, I emphasize the marks of history and memory on the body and its coverings. From imagination to manifestation, images, symbols, and text used in my work become a representation of life intertwined with our ideas regarding gender investment, pleasure and pain, what gets to be public and what needs to remain private. My new project of intimate apparel, The Real Beneath,seeks a new perspective on both fashion design and wearable art, creating lingerie across the gender spectrum – an artistic vision that can challenge the public perception of the most intimate clothing, making it a personal ideology rather than just a piece of cloth. Femininity in my work could be connected to the aesthetic and hidden details while masculinity is presented through boldness and being upfront.
Would you like to elaborate especially on Blue Bra (2015), your understanding of this iconic image and its connection to revolution, religion, politics, femininity and the politics of clothing? How does such an approach fit in your concept of beauty?
The female body is central to my work. It examines the experience of finding oneself insecure in one's own body. To me this iconic image represents the many stories of violence on female bodies with the tension on their sexuality and its use as a vulnerability in society.
In this drawing, I use bright blue and gray to signify Blue Bra, the photograph of a woman being physically assaulted during the 2011 Egyptian Revolution. In the center of a sheet of white paper, viewers see detailed lace and filigree of expensive panties that are ascribed by both very light and heavy pencil markings. When viewers look more closely at the lines of the drawing – in its interior space – they are brought face to face with shadowy images of violence and the vulnerability of its victims made up of the same strokes that give shape/form to the more pleasurable aesthetics of the piece.
In some of your drawings you are citing commonly known pieces of Western (?) pictorial memory. For instance, in Becoming (2016) you are showing God's and Adam's fingers touching, referencing Michelangelo's painting. What kind of underlying history are you dealing with? What does it mean for concepts of art, masters of art, and their narratives? Especially thinking of the concept(s) how to bring life into the world, as I would guess you are also dealing with in the drawing Delivery (2015) and the body cast Becoming (2018)?
Contrary to the physicality of birth, creation is generally seen as a clean, non-material phenomenon detached from the body and connected to the power of the mind. The contrast between the stereotypically feminine and masculine qualities in birth and creation, respectively, have been seen and expressed through different social norms and contexts over the course of history. An example could be Michelangelo's overwhelmingly detailed fresco, The Creation of Adam (c.1512), from the Sistine Chapel. Its composition and masterful technique center around the two masculine figures of God and Adam in the moment of creation. Absent from this painting is any evidence of female birth; the bodily fertility of the goddess has been replaced by an invisible divine spark.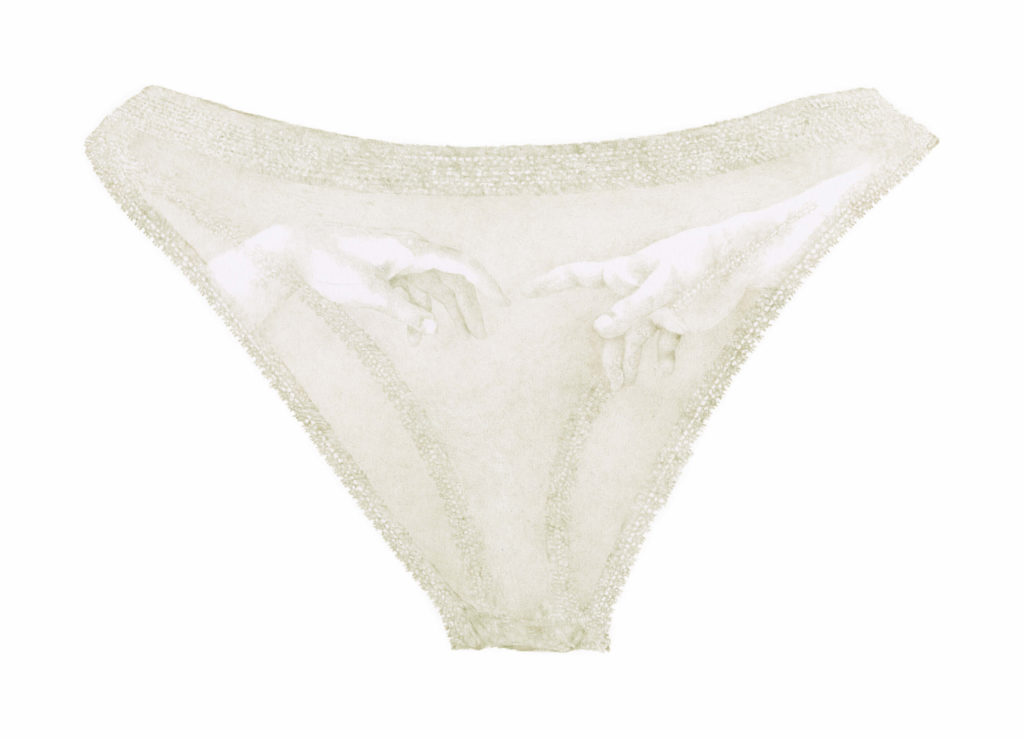 The question for me becomes: what distinguishes birth from creation?
Inspired by the tension between these dual notions of birth and creation, I used an image of the near-touching hands of God breathing life into Adam in one of my drawings of women's underwear to comment on the idea of birth in a contemporary world. While my work Becoming is aesthetically connected to art of the past, it challenges the bloodless view of Adam's creation as an idealized representation of the birth of man not of a woman. This drawing points out the power of women's bodies to give birth to humankind while women are limited in decisions about their own bodies, from their shapes to abortion.
In a different context but relative to the concept of birth, the image in the drawing Delivery is based on a photo by Ariana Cubillos/AP Photo. It shows Haiti's maternity wards, where a woman gave birth on a mattress on the floor. As Jonathan M. Katz said: "Giving birth is a dangerous business for poor mothers in Haiti, the nation with the highest maternal mortality rate in the Western hemisphere. Some 630 of every 100,000 women died of pregnancy-related causes in 2006 – more than five times the Latin American and Caribbean averages, according to the United Nations."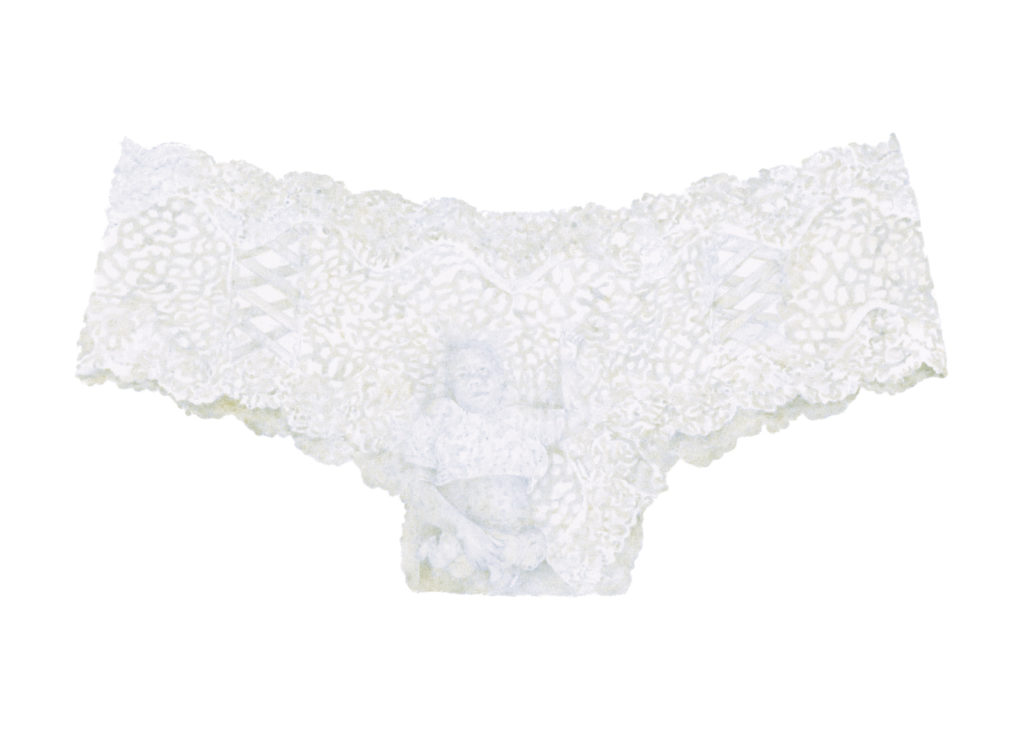 The body cast Becoming is quite different from the two pieces mentioned above. It's a female body cast with an image of a fetus drawn on the abdomen surrounded by drawings originating from the Iranian traditional floral patterns called "Golo Morgh." This body cast emphasizes the impact of the environment on individual human beings before and after birth. I think our life experience – how we feel and think, what we expect from the external world and obligate ourselves to do, what we believe and doubt, what we like and avoid – is highly impacted by the society, family class, and the country where we were born and live. Although the depth of these influences can vary from person to person, their impact is inevitable.
Let's also talk about your sculptural work a bit. Obviously in your body casts it is always a female body you are presenting – is that important to you? Could the same be done using a male body? I am thinking of another drawing of yours (Man in Red, 2018), which might foreshadow the connection (or visual separation?) of male and female bodies. How would it be different using a male model's body for a cast?
I don't think I am ready to use the male body as the center in my work yet. Man in Red was the first large-scale drawing of a negligee, which continues my earlier series of colored pencil drawings of intimate lingerie. The drawing depicts a delicate feminine drawing of a corset with the implied presence of a masculine figure with a traditional Iranian mustache. While it indicates the presence of a man, the drawing with its lacy pattern also emphasizes the transparency of how beauty and pleasure can be seen through different cultural perspectives. I hope Man in Red provides a frame to challenge national and sexual representation as well as ideas regarding gender investment. The border between femininity and masculinity has been crossed in this drawing and the consequences are left to the viewer to imagine.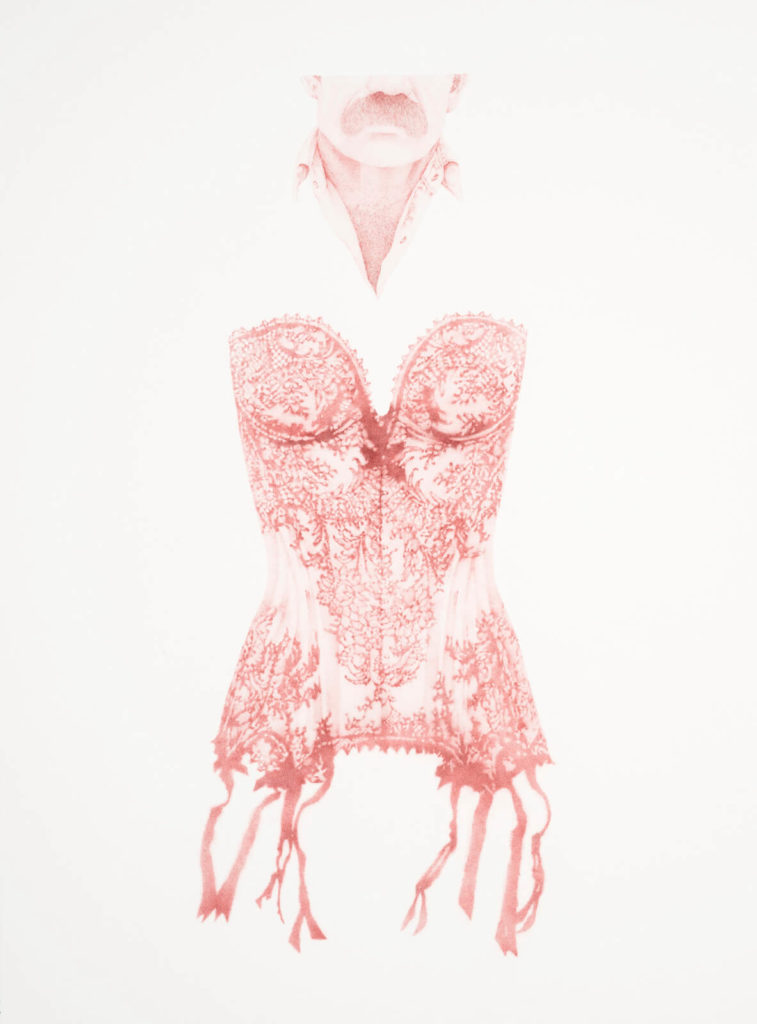 When I first looked at your sculptural works, the materiality and technical approach reminded me of the concept and history of face masks. These were introduced to preserve the deceased's identity, which of course was (and is) strongly connected to individual facial features, for all time, representing the persona of a being – in a literal sense, a mask. What are your thoughts on body casts as canvas? Why would it be important for you to connect them to one specific body and therefore to one specific – to your – identity?
The majority of religions put pressure on the female body to conform to certain standards, as with the obligation to cover the body or issues surrounding access to contraception and abortion. So I began wondering whether my most trusted, accessible, and safe place could simply be myself. In the beginning, my body casting project was more about the process than any final piece. Through the collaborative process of casting my own body, I place myself in a vulnerable situation that challenges beliefs I grew up with. As Peggy Phelan says in Unmarked: The Politics of Performance, "There is no apprehension of the body of the other without a corresponding (re)vision of one's own."
Some of the body casts are not covered in drawings of underwear but in drawings of flowers, branches, and leaves. There's even a branch growing from a female breast (Cycle) or woven flowers growing from underwear (Possession). What's your understanding of nature when it comes to body images?
Inspired by nature and referring to the concept of nurturing through both this magnificent Mother Earth and breastfeeding of a woman, I have used a branch of a tree in my body cast, Cycle. Floral and lace patterns alongside of the images drawn on this body cast become a natural object itself: a branch of a tree. The body cycles here between the illusionary and the real, the artificial and natural, carrying its disruptive iconography along with it.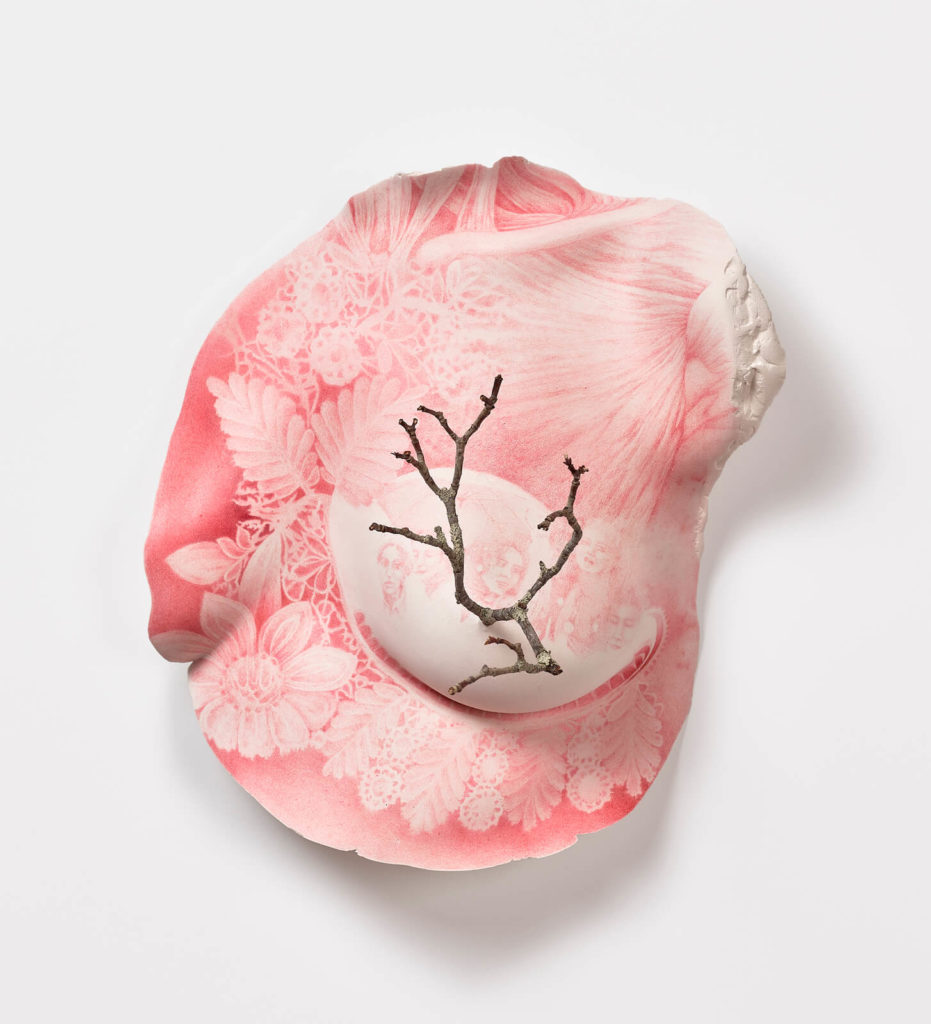 After all those questions, knowing you grew up in Iran and have lived in the USA for quite a while and continuing traveling there and back again – what are some similarities and differences in answering them in regard to your location? Are there any in the first place?
As an immigrant in the US and considering my country of origin, I don't feel safe answering this question.
Navigate through Azita Moradkhani's Artist Room
Sumac Space is a venue for raising questions and conversations.
It is updated regularly with new, fresh content.
Subscribe to the newsletter to be kept up to date.
Niklas Wolf, M.A. works as a researcher and lecturer at the Department of Art History of the Ludwig-Maximilians-University Munich. As a research associate, he is assigned to the professorship for the values of cultural heritage und provenance research (Prof. Dr. Dr. Antoinette Maget Dominicé). His research interests focus on the art history of Africa (especially tradition-based art), photography, Material Culture, visual studies, art history and cultural anthropology, interculturality and aesthetics.
Currently he is working on his doctoral thesis Voodoo and the state of inter. The (re)production of images and media of West African Vodun between identity and alterity (working title), dealing with superordinate discourses of display, materiality and provenance, as well as the performative effects of specific, multifunctional objects in the construction of identity and alterity. In 2020 he co-curated the exhibition Photobook Africa. Tracing Stories and Imagery at the Zentralinstitut für Kunstgeschichte, Munich.
For more details see https://www.kunstgeschichte.uni-muenchen.de/personen/wiss_ma/niklas-wolf/index.html