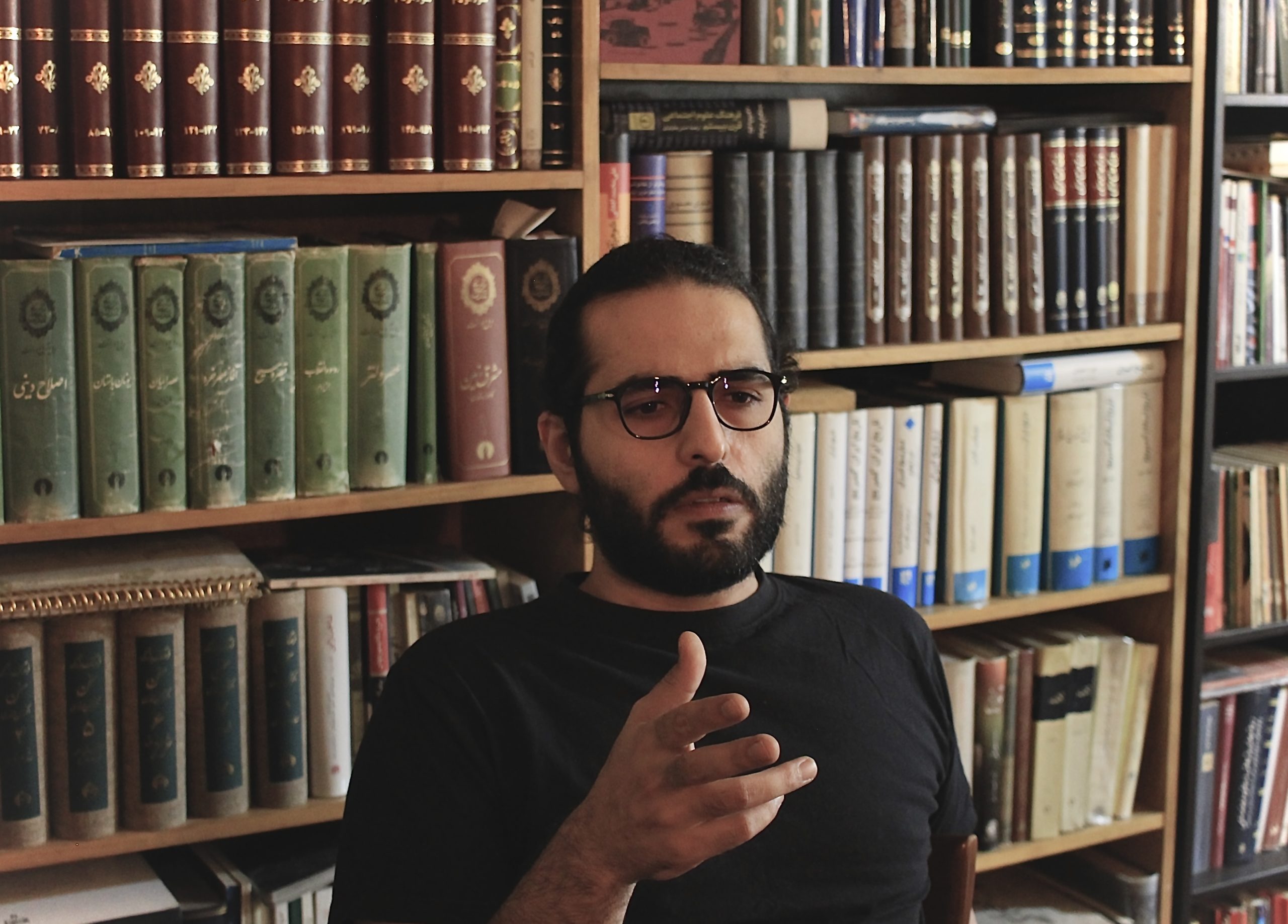 Aidin Bagheri, b. 1991, Tehran, Iran.

Bagheri's views are informed by his education in sociology, and his art projects can be understood as visual essays which criticize the norms and values of a changing society. Bagheri works in a research-oriented manner and utilizes diverse media.
Amir Khorasani, Sociologist
Well, this work that Aydin has started, this exhibition can be viewed from many
different angles.

But there is a point that the exhibition seems to be about magic or is irrational or
superstitious.

The main question that arises is that we, along with the superstitions of the
modern age, such as motivational classes that call on hyper-modern subjects to
change and progress by changing things in themselves.

In fact, they have continued with a priori superstitions. But the serious question
is, how did these superstitions persist? And other matters have been removed. In
other words, what is the logic of resilience of these things, which are like coffee
divination and tarot divination?

Perhaps the most obvious answer is that they somehow promise a future, or curb
life uncertainty.

That you do not have children and turn to alien sciences, and in the process a
person who opens a fortune-teller or a prayer writer opens up a perspective in
which you can hopefully have a child or you cannot sell a house and in that
perspective. It is possible to sell. In fact, the depressions of life are placed in the
vicinity of divination and prayer writing, and so on. I think their resilience logic is a
promise they make for the future. It is well known that if you have a cold, you can
use a medicine to cure it. Alien sciences, in fact, address the future and reduce
their uncertainty.
Interview with Navid Pourmohammadreza about the exhibition of Koleh Ser, O Gallery
When you step into these few rooms, you come across these pictures and images, many things may come to mind, but if I want to tell from my personal experience, by looking at these, I became more involved in a concept than anything else. My mind is so preoccupied with the problematic history of things, the problematic history, the clutter and the heterogeneity that things have together, we usually read about it when we think of this heterogeneous history of things, the everyday objects in front of our eyes, that we think of ourselves. You can say when it was produced, for what purpose and function it was produced, what date it passed and what its purpose and function is now, but usually we put some objects in the middle or at least take some of them, because we think this is well, this is out of the circle of the problematic history of objects, because it has passed a more homogeneous history, a purpose has been formed based on this goal, and even today, after passing decades and centuries, it still pursues the same history and purpose. At least in my mind, a category of these objects that seem to have a more diverse history, too. They are sacred objects, sacred objects that are usually tied to the same prayers, vows, prayers, and things like that. Read more…
Conversation No. 1
How are you?
Fine, thanks.
Do you know what these works reminded me of?
No, what?
Khavaran
Interesting!
It is not irrelevant to Khavaran, right? Did I get it wrong? These are tombstones
No, you did not, by the way, the name of the work is "Tombless Lovers". As soon as you remember such a thing, it is enough for me. Although I have not worked on a specific subject, there are many Tomblesses here.
Yes, you're younger than that you can remember the Khavaran issue, but for me, the feeling I had from that year came alive.
I understand
Are you an artist?
Yes
It is a poetic and beautiful work, but it has a heavy and political feeling for me
In any case, even breathing is sometimes political
So, it is political?
I did not do political work, this is an artistic installation, but I have no problem with your perception
Thanks, good job.
Thank you
Conversation No. 2
Man: Shall we go up or cross from here?
No, go from here.
Man: Do you play human tricks? Do you make the stones look big?
No
Woman: What is this, sir?
It is an art arrangement called " Tombless Lovers"
Man: Well, there are so many tombstones, so many tombstones!
Yes, it is a cemetery
Woman: What was your university major?
I graduated in painting
Man: Excellent
Woman: It is very beautiful from afar
Man: It looks good in the photo. How patient you are to lay all these stones. What a good job you have done so that motorcyclists do not cross.
Yes, it has become something that neither the motorcyclists nor the cars can pass anymore.
This is very good
Conversation No. 3
How beautifully arranged, did you arrange it? It is artistic. Do you know what it's good for? There is a game …
Domino?
No, I do not think you have had or experienced this game. For this game, you throw stones at a distance, like these, tall. Then a few people stood on this side and a few on that side.
And?
They throw enough stones from a distance so that those stones that are in the distance will fall. Each stone has a point.
Interesting
When I came from a distance, I remembered that game and said how cool, hey, throwing stones and throwing stones. Well done!
Thanks!
Conversation No. 4
Hi, can I ask a question? What subject are you looking for?
This is a work of art, an installation called " Tombless Lovers"
What are these symbols?
They are both a symbol of life and a symbol of death. Stagnation of stones is a symbol of life. I just erected the stones that fell here. They stood still. That state of the cemetery and tombstone is also a symbol of death.
Good luck
Thanks
Interview with Fouad Najmuddin about the exhibition of Koleh Ser, O. Gallery
As soon as I entered the gallery, the first thing that caught my eye was the scene, which is actually the amulet market and the spell that are placed next to each other, while I was expecting to encounter an urban administrative concept of the market and things like that.
At the next stop, I was shocked by the images whose themes now made sense. At first, it gave me a very serious concept, it was at that moment that the title of the gallery made sense to me and I realized that I was facing a serious atmosphere and not an urban right. The fact is that I was not shocked to see it, because most of this collection and what I see, I have already seen and experienced as an island and I know it. Of course, I did not know part of it and it was very new to me, but their coming together occupied my mind and it was really interesting. Three things come to my mind that are interesting; First, we actually belong to one of these cuts, depending on our social background, type of family, and place of residence. We have a narrative in our minds that this bipolar narrative, between the belief in a series of concepts and metaphysical forces to a truly positivist view of the world, is in a dilemma, that I have been here since childhood, here as an adult, and tomorrow in another place. In the description of the family, this range may change, but there is a balance that our family are in this side, or in that side, or something like that, these are not really a single polarity, but several poles, each of which is an attraction to the forces of ancient mythology, magic and without compliments, they are very serious about themselves and they are in serious conflicts with each other. I saw this conflict in the word of myth, when you read the word myth, you look at the word myth itself, that is, from an Islamic point of view, it is ostentation. That is, the first myths are in fact false beliefs, that is, we have a religious narrative of creation, of existence, of the world, and other beliefs that are other narratives that can define Egypt and define another place… Read more…
Interview with Ruhollah Shamsizadeh about the exhibition of Koleh Ser, O. Gallery

From my point of view and from the standpoint of his field of knowledge, there is more imagery and coding than decorating stories, because in the art world I seek to create a code rather than unlock it. I want to create a question rather than finding an answer, we need a paradoxical filter, because on the other hand we are faced with a secret, a secret that basically deals with a part of society's mentality, that is, society wants this secret which is called It is a prayer, a spell, and a code that works for it and it wants to use this to solve a problem for itself. So what is happening here is what do we want to do? Is this the mystery we want to turn into another mystery, or is it the images of someone standing on the threshold between interdisciplinary knowledge such as sociology and the image medium that seeks to transform some kind of basic knowledge into a medium that can essentially be a medium for coding and decoding? What is happening here is that on the verge of standing where we do not know exactly what to do with the story, do we have to deal with coding that is being re-coded or documenting archival projects? Read more…