This body of work on asylum and life of refugees in Germany contains separated works with different media: the photo series "LAUTER STEINE", the installation "LACRIMARIUM EUROPAE", the lecture performance "On MOTION DISCOMFORT" and the research walk "GUIDED SLUMMING". LAUTER STEINE reflects how fiction in documentary photography might unveil a truth in a normative border regime discourse.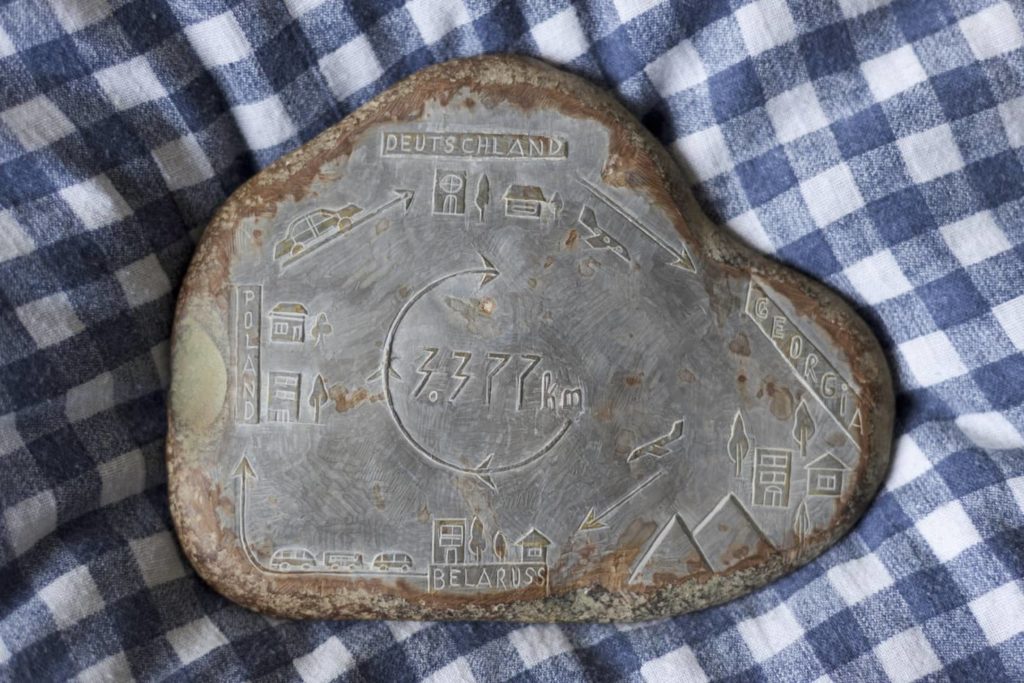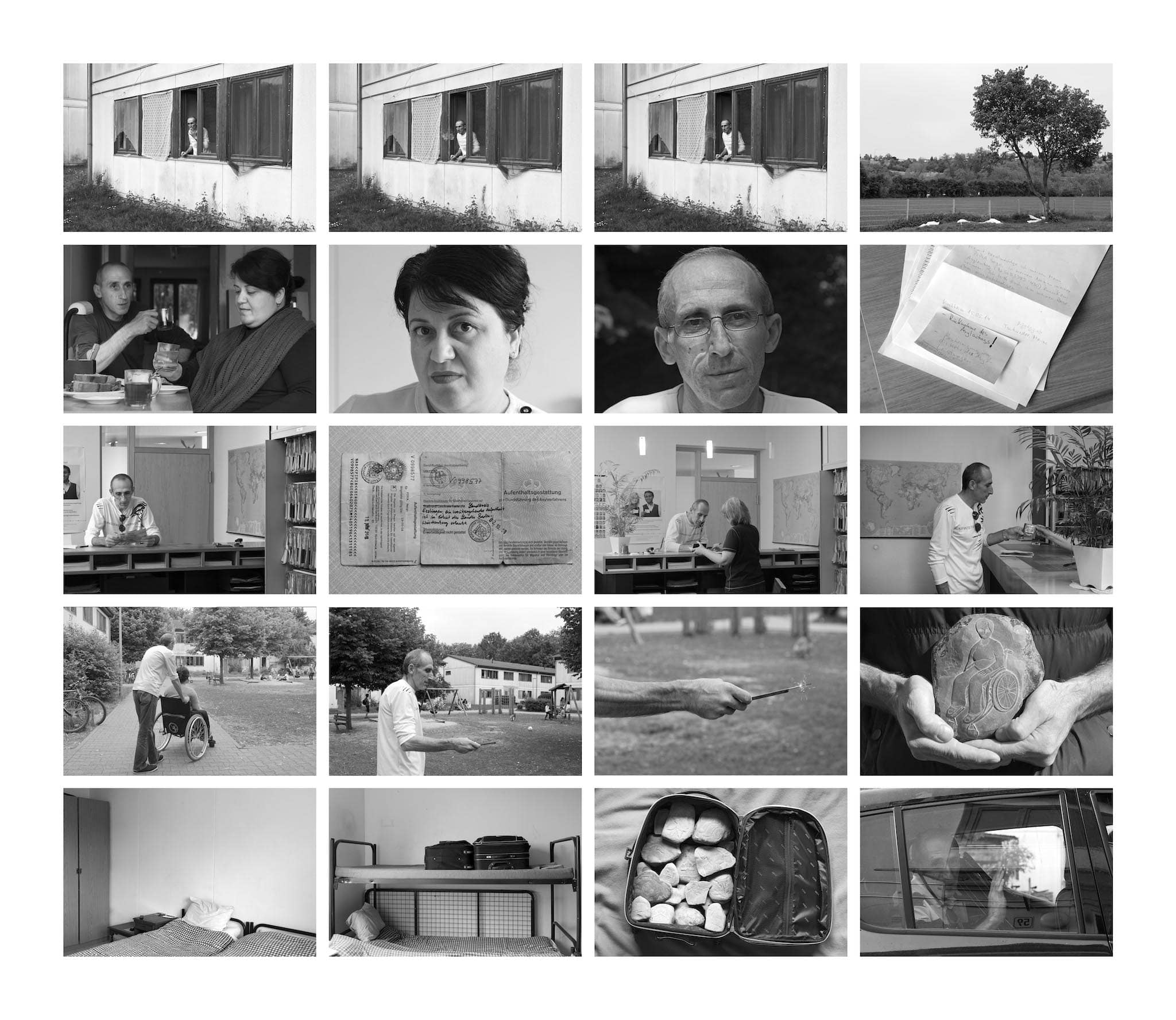 LAUTER STEINE (LAUTER STONES)
2014-15, photo series, 18 bw and color prints, Aludibond, variable formats
With the project proposal for a photo novel I approached the Georgian refugee Sergo Pipia. I was interested in his survival strategy in the everyday life of the asylum seeker housing close to Stuttgart in Germany. A stonemason by profession, he collected boulders from the river Lauter, which flows along the accommodation, and decorated them with motifs such as animals, flowers and architecture in the form of reliefs. Afterwards he sold them at bazaars. His plan to get help for his seriously ill wife Marina Tsertsvadze in Germany, and to finance it by selling his stones, had not worked out. Due to the existing emergency care regime for refugees, the high costs of diagnosis and therapy were not taken over. Without medication and therapies her condition deteriorated rapidly, so they withdrew their asylum applications. We realized the project while they were waiting for their papers to travel back to Georgia.
I understand photography as a performative act which results frequently, but not necessarily and only in photographic images. For my work LAUTER STEINE (LAUTER STONES) I have chosen a photo novel as way of narrative, which also reveals my own biographical references. Being a migrant in EU myself I came to work with people who were more vulnerable due to their rights and ways of representation in the German media and society. Asylum seekers were effectively denied being political subjects by ruling law. This resulted in an asymmetrical power and privilege hierarchy during the project. I tried hard to compensate or deny these structural effects: the photos were staged, purposes were communicated and production conditions were agreed on in advance. But "there is no right project in the wrong border regime".
Through the photo novel I got involved with the protagonists. In the beginning the photographic technique served as a contact medium and excuse for an impossible encounter. At the same time it is the space in which I tried to establish a contact zone after Marie Louise Pratt and James Clifford. The photographs testify the process. Questions about art, authorship and artistic concept, about intention, expectation, motivation and responsibility arose inevitably and had to be negotiated in a dialogue outside and within the picture. The photographic act is at the same time conducted by the border regime and the figures we played were at no point free but were put on scene.

The question was how realistic we managed to play ourselves and what went wrong. At the same time feelings such as fear, grief, helplessness, shame and anger that these encounters within the border regime produces had a place to materialize, to become visible and negotiable within the photographs. If I question representations in the pictures by fictional counter narratives, fight reality with magic, the presented fictions have real effects and the actors – including myself – have to position themselves and act in the battlefield of representations of political and medial conflicts.
In the space that opens up through the photographic act, a change takes place in the encounter that can be traced in the pictures. In the beginning, I was guided by a voyeuristic view of the accommodation everyday life, my photographs reveal an inner distance and fear of contact. But slowly I opened up to Sergo Pipias and Marina Tsertsvadze's world. The story evolved gradually and the pictures were taken spontaneously, afterwards we discussed them together and decided how to proceed. Sergo played himself better each time. Shortly before their departure, the story tilts into absurdity, Sergo has a Marian appearance and begins to do magic with a magicians stick. Due to the fact that we did not have a common language, there is no text in the photo novel.
The photo novel offered him the opportunity to draw attention to his fate and to articulate the experienced disappointment. He was able to ascertain his identity as an artist and to tell his story, for which there is no room for his role as a refugee. He also hoped for better exhibition opportunities after his return.