Curator's foreword:
How do we connect with a region, its land, and its materials? By braiding them.
Adrian Pepe's braided sheep pelt is part of a vast research and craft project titled Entangled Matters. The name itself conveys the mix, contact, and crossover taking place between the artist and his material research subjects. The Awassi sheep is of particular interest to Adrian Pepe, who has adapted his textile practice once born in the Americas to what happens to be one of the most adaptable breeds of sheep in West Asia.
In this tangle of stories, human and non-human collaborators, highlands, and compositions, the braid stands out as virtually the most harmonious of tangles. In the presented braids, color, pattern, and texture find communion in their individual strands and speak to the braiding taking place between an artist–artisan born in Central America and Lebanon's textile history, which keeps him warm – literally.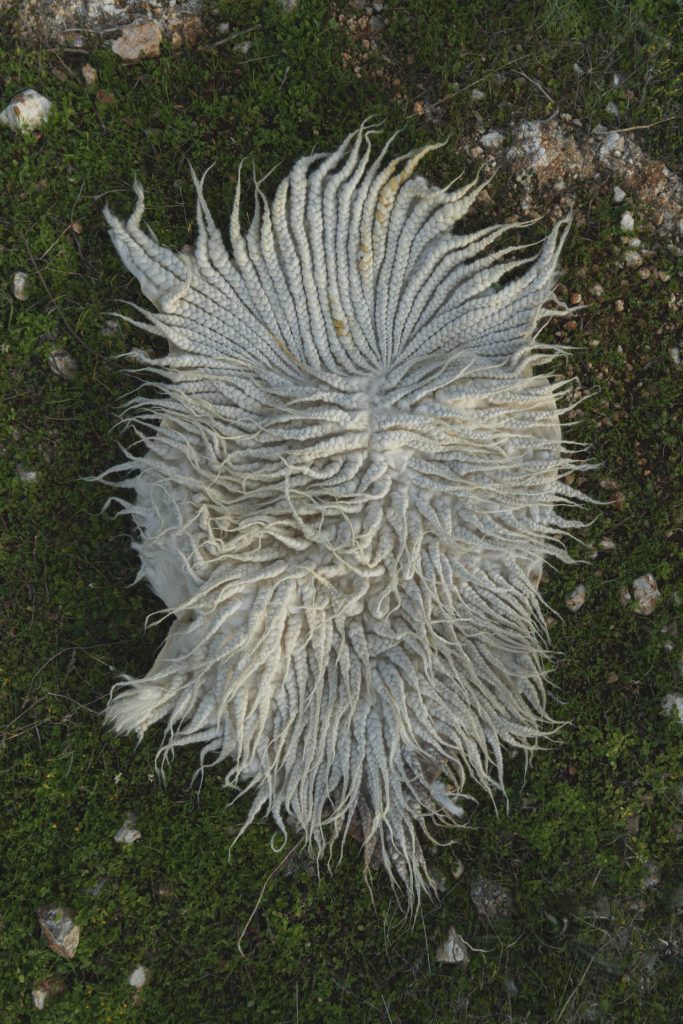 Through a fully immersive experience with craftspeople and local shepherds, the work explores centuries-old modes of production, forging an intimate relationship with the material of wool, its sentient provider, and the land. This performative act bridges the gap between raw material and commodity, highlighting society's newfound desire to reconnect to the natural world.
This body of work begins with an ancient animal fiber: Awassi wool, bred in the Levantine region for over 5,000 years. This particular breed of sheep is a central figure in the human narrative, traditionally within the contexts of pastoral imagery, biblical fables, and ritualistic practices of Abrahamic religions. Through the process of dyeing, spinning, braiding, hand-guided embroidery, and most apparently, felting, the wool is transformed into material artifacts laden with perspiration, emotions, mythologies, and symbolism. An intimate association transpires between the craftsperson and the crafted object, as the raw materials become hybridized skins that summon themes of transcorporeality and biocentrism.
Felt is one of the oldest known textiles, and its craft reflects an ancient, complex task entailing the compression of fibers, and in the process, the condensation of history, context, skill, the practitioner, and the animal. This work awakens a dormant instinct of a more tangible understanding of nature, an ancestral memory of simplicity in complexity.
During these unprecedented times, this moment of global fragility invites us to search for answers from a more integrated perspective, revisiting more primal and grounded forms of existence. It is in times of crisis that we find most freedom and clarity, exploring the realm of possibility to creatively shift our perspective toward a better future.
_ Adrian Pepe