Curator's foreword:

What do four years of Abu Dhabi taste like? In this menu, Cristina Serrano looks back at her time in the Emirates, this time from her kitchen in Bogotá and her independent cuisine project: Cristi Pasteleria. In it, dishes ranging from around US$2.50 to US$10 are her way of extending to a community of diners and Instagram followers an amalgamation of Abu Dhabi tastes and some of their brands. In a city like Bogotá, even if some have heard about Abu Dhabi, many won't know what it tastes like. Cristi's menu is a tastemaker, seriously.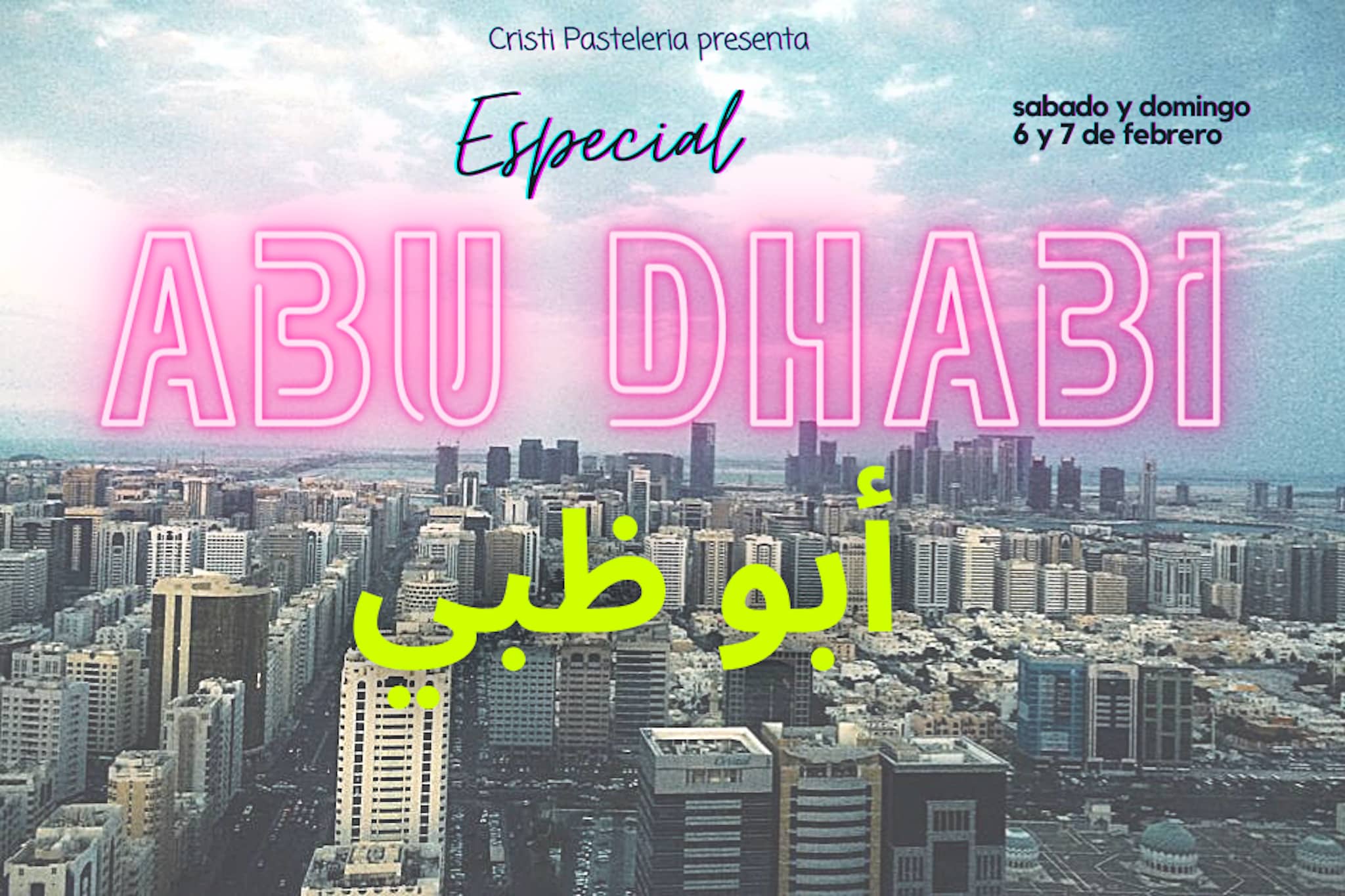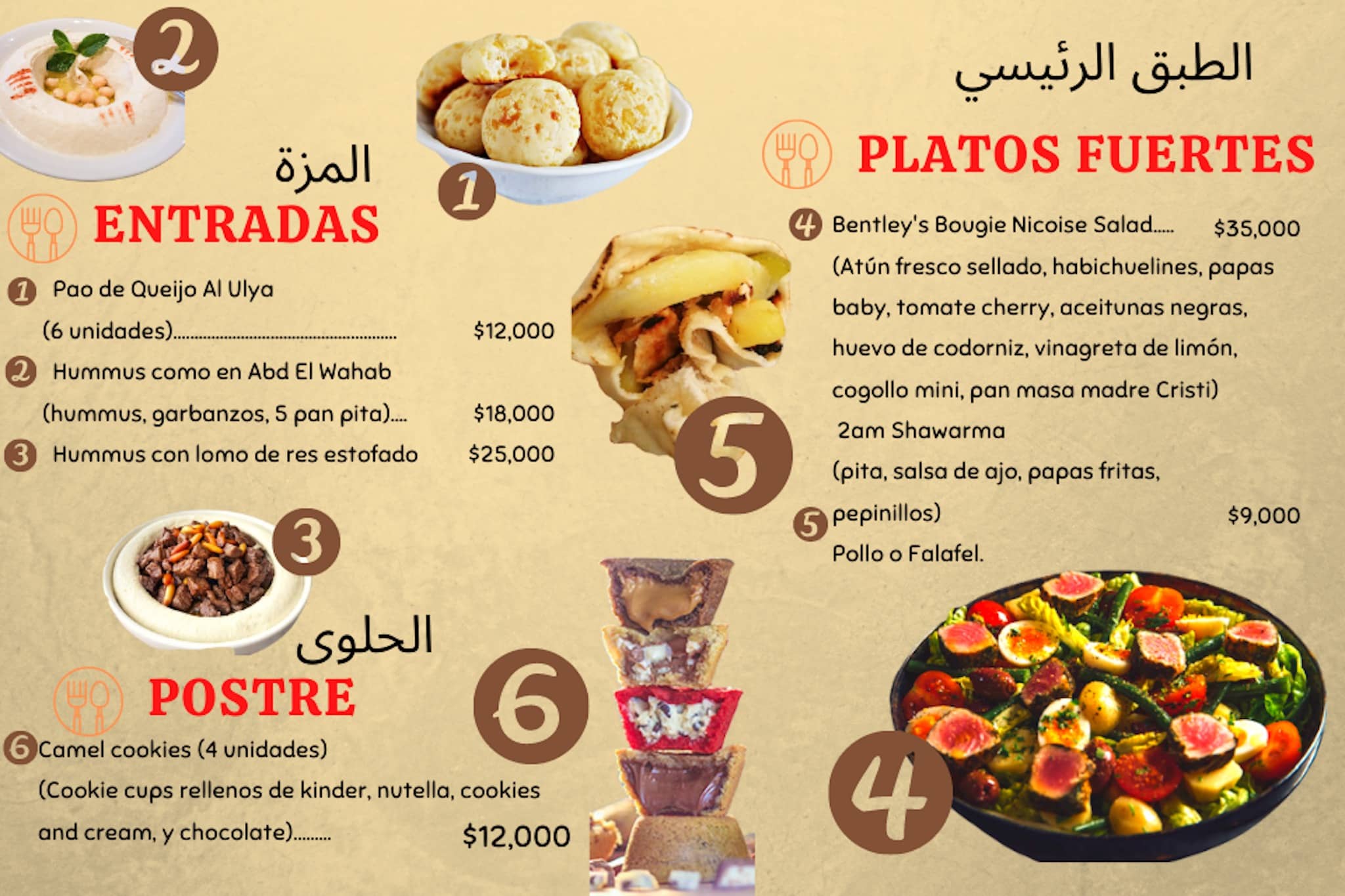 After moving back to my home country after a four-year stint in the United Arab Emirates, the memories of my education in Abu Dhabi acquired a certain dreamlike quality. Living a life so distant, geographically and culturally speaking, I stumbled upon the question of whether our memories represent something we've gained or are the ultimate reminder of something that we've lost.

It's always been difficult to illustrate to others what my life in the Emirates was like. My family's and friends' expectation of extreme culture shock and "exoticness" are quickly challenged by the reality of a modern, urban, car-centric, highly cosmopolitan experience where street food was the predominant excuse for interacting with the city.

In our case, as NYU Abu Dhabi students living on Saadiyat Island, mainland Abu Dhabi was to us perhaps what the island of Manhattan is to people in Staten Island or New Jersey. Our frequent stints across the Saadiyat bridge would take me and my friends to the mina (port) to get paratha sandwiches and karak chai, to the nearest Syrian/Lebanese restaurant for a dose of chicken or falafel shawarma, or on more special occasions Mongolian hot pot and the best Ethiopian grub outside of Ethiopia.

Once in a while, our generous student stipends allowed us to place a foot inside Abu Dhabi's intimidating culture of luxury. Pretending to be anything but students on an allowance, we would dress up and, with a tourist approach, visit some of the big city restaurants that open their doors in Abu Dhabi. Navigating the low-brow/high-brow dichotomy as an anthropology student on a budget left me with a bunch of unprocessed food memories that, in contrast to an extremely "down to earth" lifestyle as a working entrepreneur, felt like a dream.

Facing the possibility of never returning to Abu Dhabi (initially because of costs, eventually because of the Covid-19 pandemic), I decided to attempt to recreate some of the dishes that were central to the eclectic and unexpected experience of living in the UAE. My intention was not to recreate typical Emirati dishes but rather to illustrate with food the broad range of culinary offerings one might experience in a single evening in Abu Dhabi. Additionally, the food items I chose to recreate in this menu represent different moments of culinary epiphanies.

In Colombia there is a strong presence of Lebanese/Syrian cultural descent, a product of mass migration during the 1920s and '30s. In theory, I had tried "Arabic" food in Colombia. But, as with any process of cultural migration, many things get lost in translation, or are entirely lost given a lack of specialized ingredients, etc. This is why my first bite of shawarma or hummus in the Emirates was, to say the least, epiphanic. There, the hummus is smoother, more garlicky, and fragrant than the ones I had eaten before. With small pools of olive oil and sprinkles of paprika, this hummus, especially the one from a restaurant called Abd El Wahab, offered a variety of textures and flavors I never knew belonged to hummus before. Same with the Lebanese Flower shawarmas; smaller and more explosive than the massive burrito-like shawarmas we eat in Colombia, they rebutted my every notion of how this food item is supposed to be. To represent Abu Dhabi's "bougie" character, I decided to recreate a dish I had only once, in one of the aforementioned luxury stints we used to have. In this case, it was a simple niçoise salad I ate at a British restaurant located in the Galleria Mall called "Bentley's". What can I say…? A niçoise salad is a classic French dish where you enjoy slices of canned tuna with small green beans, boiled eggs, tomatoes, potatoes, and a tangy dressing. But at Bentley's you get a bed of baby romaine lettuce, perfectly peeled and round baby potatoes, blanched green beans, organic cherry tomatoes, boiled quail eggs, and slices of sesame-covered, barely sealed fresh tuna steak. The fact that absolutely all the ingredients in the plate arrived by airplane or cargo and were the most expensive form of that ingredient was demonstrative of a certain impracticality enveloping the general experience of living in the UAE. 
_ Cristina Serrano