Your video The 3-Day Effect is part of a bigger multi-disciplinary work with the same name, and it is the last of several exhibitions of different works in which we find ourselves immersed in desert journeys. That immersion opens the door to many sub-journeys within the main one, which we navigate and reveal through various media – video, drawings, photography, ceramics – as well as through the way all these media come together in communication with the exhibition space itself. There is a lot to talk about in these sub-journeys, but let's focus in this conversation on how you weave together the various threads of your personal walking experiences – with your technical experimentations of materials – and with your research and readings in connection to the work.

The Blue Wadi I & II (2019 and 2021) and The 3-Day Effect (2020/21) seem to all be works in dialogue with each other. Their components flow sometimes organically into each other, while occasionally changing rhythm or language, or characters.
How do you bring the explorative pace of wandering and the openness of discovery from the wide deserts you walk through in real life to the materials and media you work with in your art? And how do you approach the difficult challenge of bringing those elements/sensations to the exhibition space?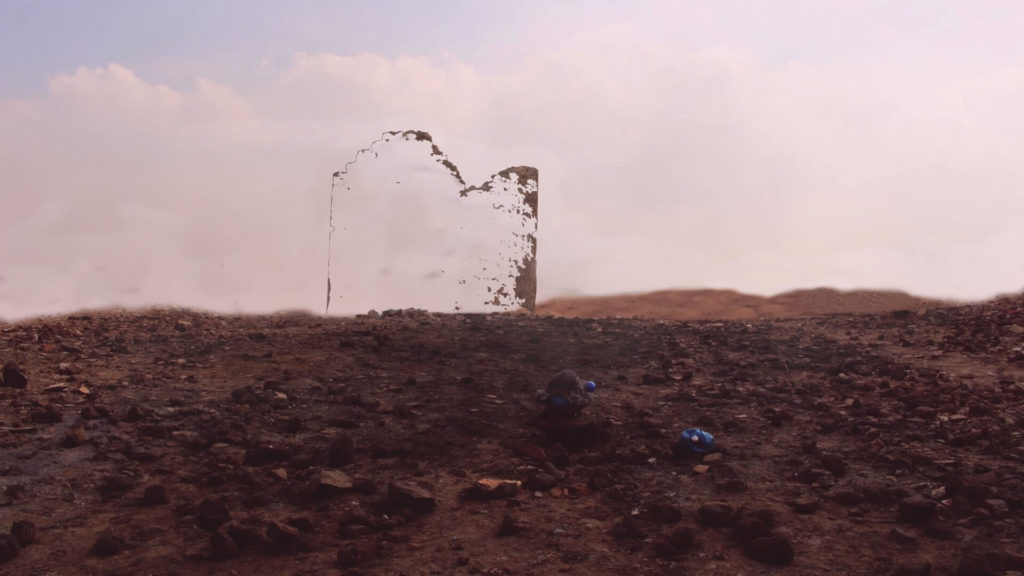 My passion for wild trips in the desert and the mountains began years ago. The trips could continue for many days, crossing hundreds of kilometers between valleys and mountains, and this made me familiar with this world. Throughout the years, I have collected photos and videos, with the goal of saving them to preserve a specific moment in a specific area. I do not know if I will be able to access them again or not, because spending a long time in these remote mountains results in moments where I temporarily lose my memory, and saving all the data in the devices becomes impossible. So many events become unclear and, after some time, they become like an intuition or a dream. Back then, I was enthusiastic just about the exploration and I did not mean to center my relationship with this world in any artistic practice.

In 2019, I decided to develop my relationship with this world, which I consider an important source of inspiration. The world of the desert and the mountains is a hard and confusing one. I try to read it and get to know its elements by relying on the stages of confusion, discovery, and arrival; then again: confusion, discovery, and arrival. It is a never-ending process of recurring discoveries through the mind, the body, and the soul. It is a journey between imagination and reality, mixed with facts about political history, geography of the region, and scientific, geological, biological, and heritage realities. So many details fill me up, causing a pleasant confusion, until I reach a stage of temporary overload. When I get to a point of coherent experience, one that I can talk about and share with others, I stop wandering and searching. At this stage, I surrender without previous thoughts of this world, waiting for messages from it, only carefully listening.
There is a very strong sense of motion in the three videos (Blue Wadi I & II and The 3-Day Effect) and a sense of accumulation and build-up throughout the movement. Based on the process that you have described in detail, can you elaborate on what you see as your focus and the essence of these three works?

Blue Wadi Part I was an explorative expedition of the desert valley. The hero of the story takes an imaginary friend with him to get help on a journey towards the unknown. The journey brings a discovery of the valley's biological and geological nature, blends such a nature with its history, and engages with the valley's inhabitants in imaginary stories. After getting to know the valley and its inhabitants in the first part, we discover Blue Wadi II, which consists of three worlds, each of them annihilating and swallowing up the next. Here, the focus is on the idea of ​​the world's extinction and on the ways to adapt in moments of collapse: the environment's adaptation, the living organisms' adaptation, their ability to do so, and the extinction that occurs to the organisms that are unable to adapt. There is my reflection of what we are passing through at the moment. The 3-Day Effect film is a sensory journey of a person departing for the desert and the mountains, looking for solitude to find his way to communicate with this vast universe. He tries to discover the emotional state that results from the violent presence of the desert invading the feeling, the body, and the mind, and this appears in a poetic form.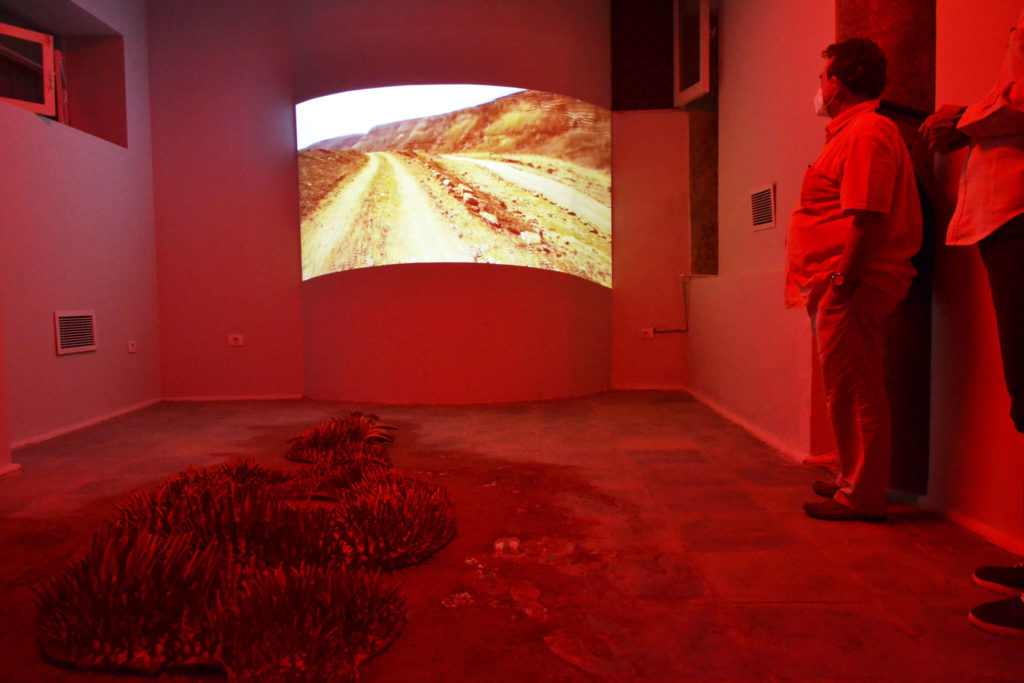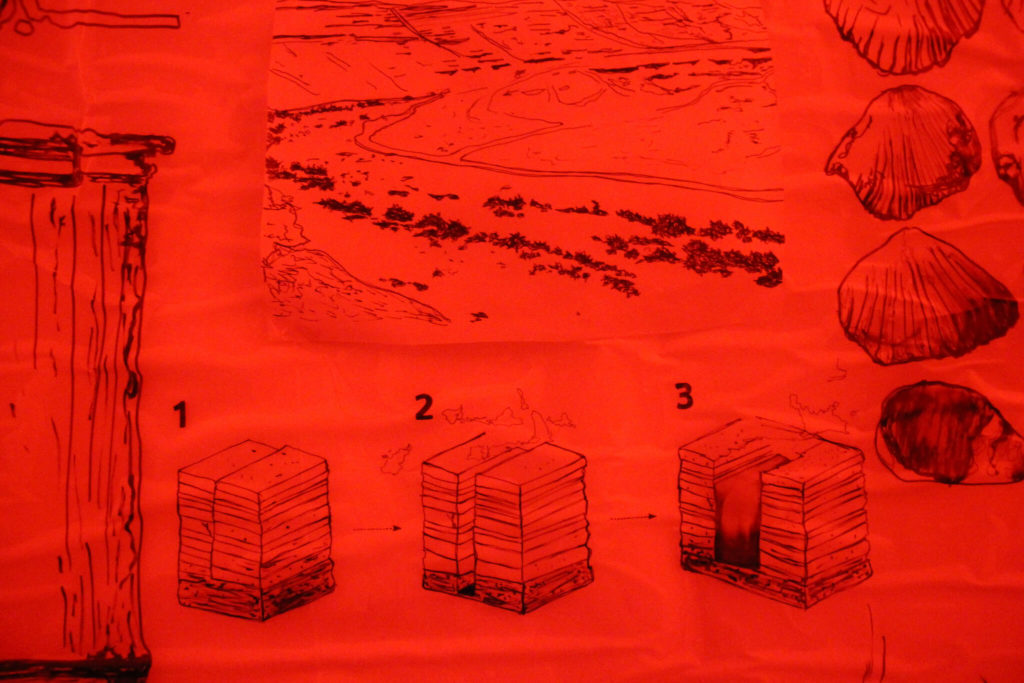 Your choice of title The 3-Day Effect refers to a high state of contemplation that comes with long hours of solitude and wandering and that lies on the verge of losing one's mind. Can you tell us more about that state? And about your choice of making it the framework – as in, the title – of this work?

When walking in the mountains after the third day, I always feel a strange state in my reception and awareness of the surrounding environment. With the recurrence of this feeling in every trip exceeding three days, I decided to find out if there was a scientific explanation. It is the three-day effect or syndrome, which is an unscientific condition. It can be described as the mind, the body, and the soul going through a different state of consciousness, when a person is in a state of complete isolation in nature (whether forest, mountains, sea, or desert) and away from any noise and pollution from the city. Then the senses' filtration or purification from audio and visual pollution gradually occurs and, on the third day, this happens: your eyes see to a very precise degree in the complete darkness, your ears hear things clearly at very far distance, your senses perceive the surrounding environment in a completely different way. Therefore, the mental process absorbs all inputs in a different way, a way which is not usual to man in his natural life, putting him in a state of imbalance, a dreamy state that oscillates between reality and imagination.
What happens to me is that I get to a sensory state that is like a ride on the edge of the mind, between consciousness and unconsciousness, which takes me on and off on different journeys of perception. All my thoughts and feelings come together at a point where the sense of time and space vanishes.
Can you elaborate on your approach to sound in this context?

I am convinced that it is not only the picture that can tell us the story but a large part is also done by soundscape. This work is very poetic, and when it was developed in stages, I was sure of the importance of designing a special sound that helps create a dreamy situation, so I cooperated with a specialist in this industry. I started by collecting the many voices that express this journey, and I made a map of the keywords, sounds, videos, and recordings available in my archives. I started extracting words and phrases that describe the feeling that is always a companion in the journey. I then shared all these materials with the sound designer/composer, in order to transmit a certain feeling, which is "the higher you go up, the more you dive inside". Indeed, this helped. Creating a soundscape of all this is very much a journey in itself. By the way, there is a final version of the movie that has not yet been shown, which is different because of the soundtrack.
I look forward to seeing that latest version on your website.
One of the distinctive characteristics of those three works is how you use different media and materials of various characteristics, associations, and dimensions to forge the experience in the exhibition. How and when do you choose the materials and media you work with? And how do you decide which materials and media you use for which parts of the work?

Being eager to carry all the tools that help me document and record the encounter with myself and the inhabitants of these new lands – such as a camera, a voice recorder, sketches, pens – I return from my exploring trip with drawings, writings, videos, photos, and sounds. I also have a passion for collecting found objects that I find on my way in the desert. I believe very much in signs, especially when I am in such a world. I let myself receive any that may arrive, and I think that perhaps these things that fall in my way may answer my questions and guide me in my research. Indeed, many of these things have inspired my project. I have many things collected from the desert and the mountains through the years, and collecting them is another project. 
A major reason for the diversity of media in the project is the diversity of the material that I collect, due to the different tools that I brought with me on the trip. I feel that a large part of it was captured by different media, so it is very difficult to reduce it to one medium only. The production of this project begins with a first stage of research, during which the material is collected with the tools that I trusted for the trip. In the second stage, the material is revised, and ideas develop. It is about reflecting on the media and the final form of the work develops. At this stage, it is possible to reduce the media and integrate what needs to be integrated, but what was spontaneously captured at the moment cannot be changed to another medium, even if appropriately developed and documented. A video, it will remain a video, and I will not turn it into a sculpting medium, for instance.
As for the film The 3-Day Effect, the process began from working through the archive of collected images from the first trips to the desert. It developed in a natural way in the form of a film and moving images. This does not mean that it is impossible to change the medium of the material medium to another medium, but this work – "the three-day effect" – is very, very sensory so, for this one, one needs to. Be careful not to lose the important material captured as it is in the moment.
Can you talk a little bit about your use of text in The 3-Day Effect? What was your source of inspiration for the text? And how did you develop it for the video?

The scripts are inspired by manuscripts and writings of monks who lived the experience of isolation in the mountains in which the film was filmed. These monks offered us their experience in the form of texts. I found these writings through research visits that lasted for three years and ended with reaching the library of an ancient monastery. This library is very difficult to access for security reasons and also for the importance and value of its contents. So I thought of asking for permission to access the monastery and search for the monks' writings. I succeeded in meeting Father Justin. He sent me part of a manuscript, which inspired me, entitled "A Sinai Illuminated Manuscript of the Heavenly Ladder: Spiritual Ascents Through Art", which was for a monk living alone among the mountains. Working on these texts and drawing inspiration from them was a long research process, which I found myself in at the beginning. Yet I wanted to include a part of it, even a small one, in this film, to catch the very first "thread" of this work.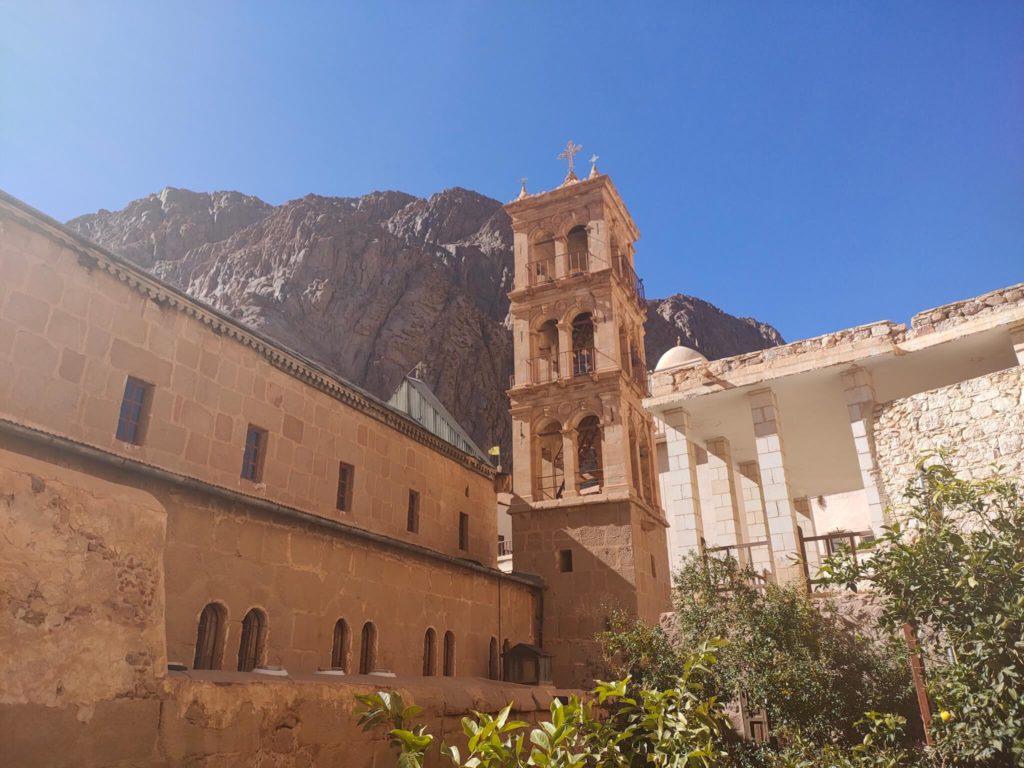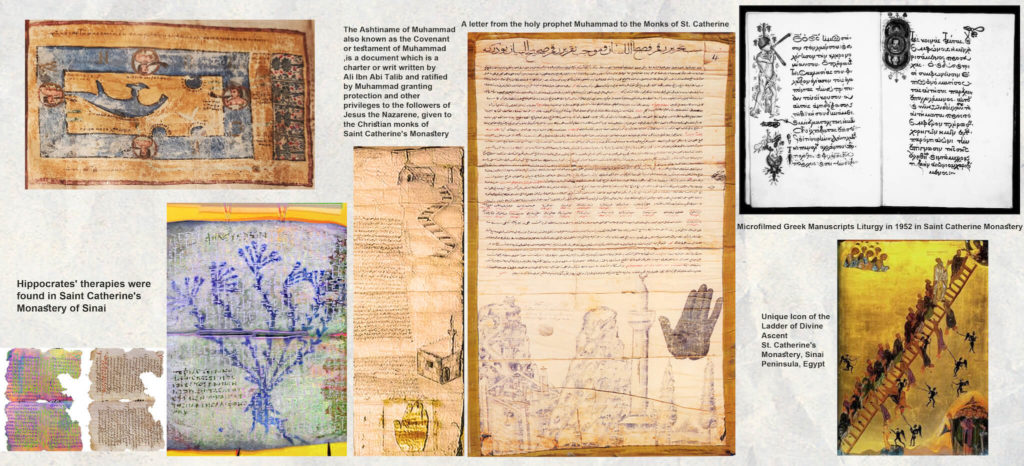 I feel that some of the tangible objects and materials that represented fictional stories and hybrid creatures that you have shown as part of the two installations The Blue Wadi and The 3-Day Effect have – in the video of The 3-Day Effect – been transferred back to what seems to be an ephemeral existence. This is also why I feel that some parts of your work flow into each other while changing form. Your use of fine-line drawings, animation, and a very distinctive soundtrack in The 3-Day Effect seems to be allocating – in this latest video version – a large space for what's contemplated, what's imagined, and what's envisioned. These ephemeral components blend seamlessly with what's documented and what's experienced. Does this (reading) of mine make sense to you? Can you share your own version of making this very contemplative air within your video?

Yes, your impression is very, very true. The desert is, in my opinion, a world that enhances the sense of imagination; it is strong in its magnificence, and this strength disturbs the mental and physical balance, creating a state of imagination or dream – whether it is discussing something like the extinction of worlds or a poetic need, like a spiritual journey. I must create the imaginary atmosphere, and I do so by resorting to effects, such as designing a soundbar that enhances this situation and takes you on a journey to other worlds.
In the video parts of the three works we've discussed, you were not an observer; you have brought your real character – or some aspects of it – into the narrative of your videos. Can you talk about that decision and about your choice of the shawl for self-representation?

All the time I am at work: sometimes I play the role of an observer, sometimes I am floating inside this world, sometimes I stay on the doorstep, sometimes I remain inside. And this is exactly what happens in reality, so sometimes I express myself through the appearance of the shawl, which is a very striking thing. People ask me about the appearance of the pink cloth, which catches their attention. People do not know its meaning and do not know what it is exactly, but they always notice it, and feel that it is a very important thing in the work and that it is something alien to this world which attracts attention, and has something dreamy about it. This point makes me feel that its presence is successful, without feeling the need to say that this shawl symbolizes me… As for the story of the choice of this shawl in particular, it is a very simple story. When I thought a lot about what could represent me, I thought of this shawl that I always take with me on all my mountain trips, and with which I cover my head from the strong sun of the desert. It always accompanies me wherever I go to the mountains, so I consider it as a witness to this world.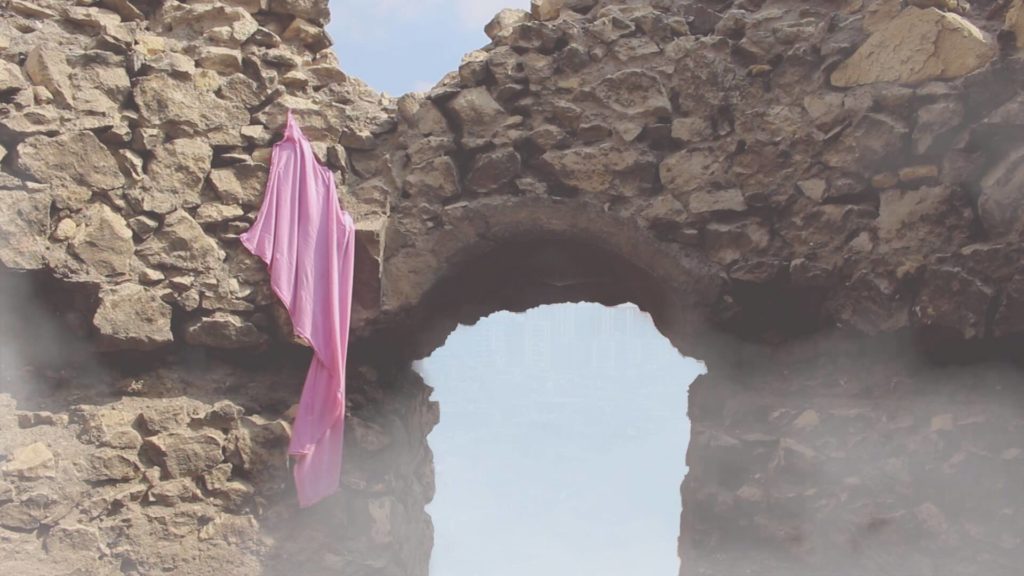 That narrative of a functional object becoming a silent witness and then becoming your partner in telling your story unfolds in the same way your desert realm unpacks its stories and objects. This has been a very pleasurable walk through some aspects of your work, Esraa. Our conversation makes me think of Rebecca Solnit's book, A Field Guide to Getting Lost, which was given to me by a very dear artist friend, Diana Matar. Diana's artistic journey is – through my, not her, words – about perfecting her walk on the verge of senses, minds, and politics. I believe that we meet many friends and loved ones in those intimate zones we arrive at while we're wandering in solitude. Thank you Esraa, for bringing part of your personal desert air to our cultural events. I look forward to more journeys and meetings in your upcoming works.
Translated from Arabic by Enrica Fei
Navigate through Esraa Elfeky's Artist Room
Sumac Space is a venue for raising questions and conversations.
It is updated regularly with new, fresh content.
Subscribe to the newsletter to be kept up to date.
Rana ElNemr is a visual artist based and working with Cairo's art scene and larger urban environment. Her artistic practice moves from formalist explorations of photography as a medium to genre-bending visual essays of her surroundings in Egypt. Her practice is anchored in questioning what it means to live and experience place and time, through recording, describing, and reflecting on this experience via photography, film, texts, publications, and conversations. Rana's artistic process incorporates formal image-making techniques with contemporary artistic practices and it strives to integrate various forms of collaborations in different constellations, such as trans-disciplinary collaborations and alternative pedagogical practices among many others. She was one of the founders of the Contemporary Image Collective (CIC) in 2004 and remains an active board member.