A conversation between the Artist Elham Rokni and Darya Aloufy
[Scroll down for the Hebrew Version]
You indicate that many of your artworks deal with movement in one way or another, whether the movement of asylum seekers or your own movement, and especially movement that is restricted due to border closures. Could you elaborate on this?
I think it struck me the first time I realized it. It was during the documenta in 2013 when I saw a multitude of works by Middle Eastern artists from neighbouring countries, most of whom are not active in their homeland but in Europe and the US. There was a strong sense of absurdity in having to travel to Germany to see art that I could potentially have seen in a significantly closer location, especially considering that 100 years ago the borders of the Middle East were open and the Palestine Railway passed through Lebanon, Syria, Jordan, Mandatory Palestine and Egypt, and movement was free.
The politics that restrict our movement is something that concerns me personally, as someone who lived in Iran and now resides in Israel. There is some kind of parallelisation between the closed political borders and the movement of immigrants and refugees – the forces that motivate people to move stand in contrast to the movement that is constantly stopped by borders. This way of thought has amalgamated over time with my physical condition today, being in a wheelchair: the movement of the limited body, the movement of the chair in the world, and the arbitrary boundaries that restrict the chair.
Where do you see your place in the space (physical, cultural, emotional) of the Middle East?
There is a sense of interrupted continuity in my identity. This interruption has been preserved, and I do not attempt to bridge it but to look into the gap created by it. The sequence of my life is divided into different life cycles – from infancy and until the moment we left Iran, from there and until my accident, and from the accident to the present day. My self-perception has been structured according to this. My identity is divided – it was one thing, then something was added to it that somewhat erased what existed before, enabling the previous identity to exist while surmounting it. It is a multilayered identity in which the weight of the new identity is necessarily greater, at least on the surface. In my work, I examine the first interruption – the move from Iran to Israel. It is like an earthquake that created a crack in the ground that I am interested in looking into.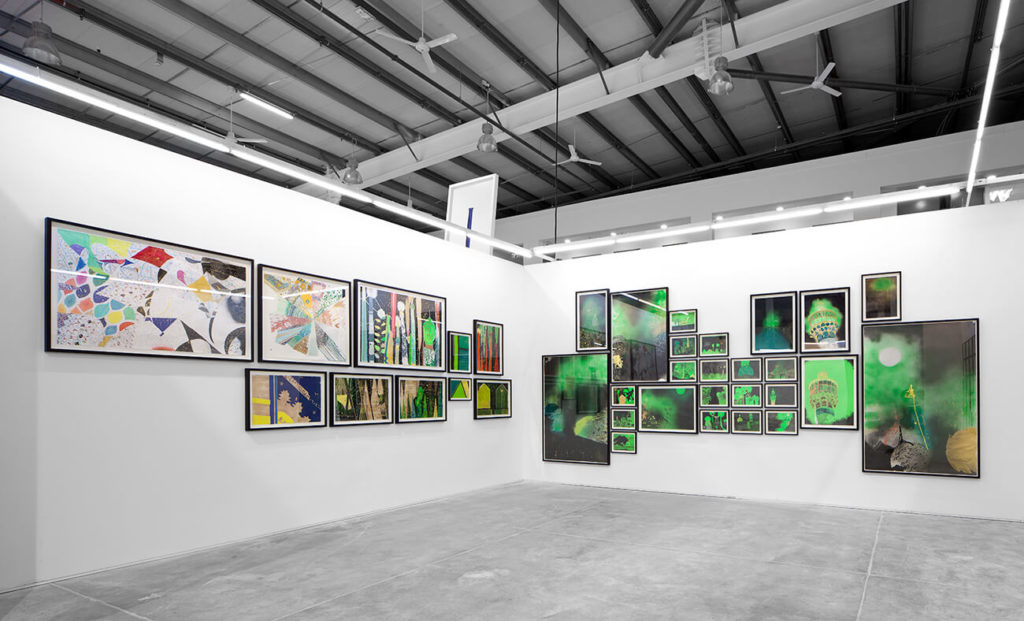 Your works also include the Western, orientalist gaze, even though you come from this space and are not an outsider. Is this related to the fact that you see your identity as divided and layered? Or to the crack created between the person you are today and your "first" identity?
The crack and my use of orientalist visualisation originate from the same place. The orientalist view comes from the shift in my position; I have moved to a country that sees itself as Western and views the East accordingly. Then, a kind of doubling is created – I produce works that are the thing in itself, but I produce them from a point of view that is conscious and critical of my position. If I paint a mosque I truly paint it, and at the same time I know that what I paint is actually an imitation, both because it is a work of art that mimics reality, and within the practice of painting. I do not physically go and observe how mosques are painted and ornamented or how to draw arabesques and calligraphy, but act "as if" I had conducted this research; I know that the unskilled eye will not recognize this lack of authenticity and will see it as an accurate depiction of a mosque's ornament.
This is reminiscent of how one thinks of memory: as something that is layered, that is composed of events that took place in reality as well as imaginary ones, the result of an event that was filtered through different experiences and emotions. It seems that your way of work somewhat reflects your memories of Iran, your place within the Iranian space and its mosques – because you are not really there. You do not see the mosque physically; such an option does not exist.
I purposely embrace this experience. Sometimes I write an unreadable text in the painting that is composed of Arabic letters but is devoid of any meaning. It will not be a "thing" or a word, but a word-image. In these works not only is the pattern distorted but also the text. The "thing" is implemented in specific ideology. In the series of cucumbers, for instance, which includes Persian carpet imagery in which all the elements appear as cucumbers, I create the same distortion, but with something more pronounced – the cucumber. I keep returning to my series of mosques or people because the recurring pattern that started with these series later appeared throughout my oeuvre; it is cynical yet includes the thing in itself. In the series titled RAL of Mosques, for instance, the painting both is the mosque in itself and offers the oriental point of view, which regards the mosque as an ornament. For me, this imitates the trend of people who ornament their homes with "authentic" elements, such as Arab-style ceramics or paintings. It's an absurd act conducted by Westerners who control the space, reshape it, and then attempt to reinsert the original characteristics of the place that once was. I foster this orientalist approach. I flatten the images into a sentence or thought, referring to the flattening I see happening around me.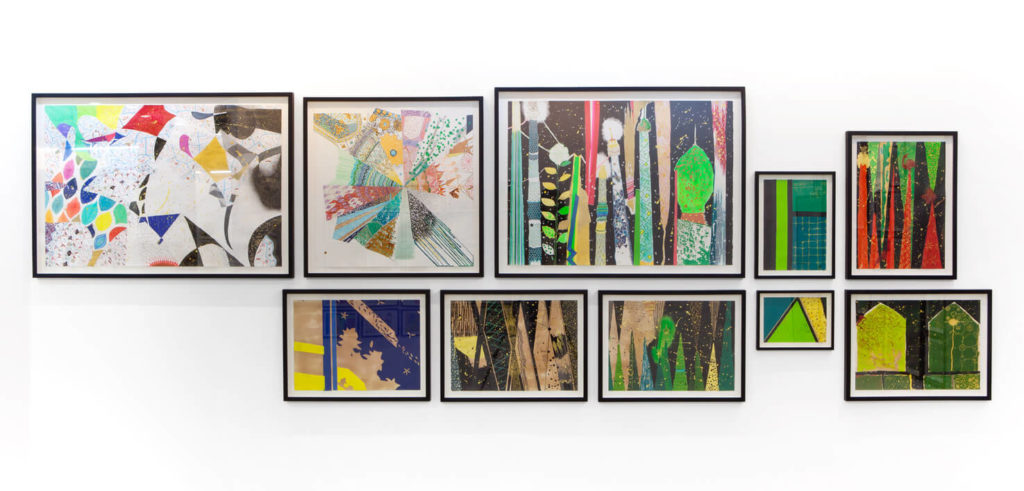 This struggle is manifested in your paintings not merely in the context of the East versus West but also within the East itself, as it explores your identity in two Middle Eastern locations, Israel and Iran, between which exists a large political contrast.
I'm not really Iranian. I mean, I'm those two things in fantasy, but I'm not really Iranian. First, I have no possibility to move in the world as an Iranian, since I no longer hold an Iranian passport; like other Iranians who immigrated to Israel, I had to renounce my Iranian citizenship and my Iranian passport was taken from me once I arrived in the country. In the Middle East, I could have moved more easily as an Iranian. I also think in Hebrew, and the conversations I have with my family members are composed of a mix between Persian and Hebrew. My Iranian identity exists in my desire to preserve it and in fantasy; it does not rely on reality.
If I had read more Persian and been exposed to more Iranian content in my day-to-day life, I might have felt like I belong there. My inability to express myself fully in Persian greatly affects me. I know how to read, write, speak, but on a very basic level. When I talk to my son in Persian, I am constantly looking for words in the dictionary. These are not complicated words, just words that were not often used around me; I have no one to speak Persian with on a daily basis. At this particular moment in my life, I feel that language defines me. I am very attached to the Persian language because I understand that this is my way of preserving this identity, and I attempt to do so through this constant insistence on speaking Persian to my son in an environment that speaks only Hebrew. He understands everything but there is no satisfaction in the form of reply – at the moment, he only answers in Hebrew.
It is interesting that as a person who is preoccupied with the visual, you find your identity in text and language.
For now, yes. I'm very preoccupied with my broken language. Talking to a three-and-a-half-year-old Persian boy illuminates a lot of gaps and disabilities, a lot of fantasies that collide with reality, and raises many questions – why do I do this at all? It is clearly not merely about him but also about myself. My relationship with him and the Persian language, which I insert into this relationship, is a reflection of my relationship with myself between these two identities. When attempting to rationalise this act, I realised that one of the first reasons I had in mind was that when I grow old and become demented and speak only in my mother tongue, there will be someone who will understand me. There's this circle – my mother tongue that will meet his mother tongue. In a sense, it's not really about him or for him; it is a morbid thought that, in moments of crisis, what remains afloat is the origins. So maybe I chose to speak Persian with my son because I see this language as something that is greater than the language itself, as something that holds an unconscious quality. And perhaps this unconscious layer is the attempt to tie him to this place, which is mine, and is broken. So the gap, the trauma, the crack, is also something else – it develops and changes; it is sad but at the same time it is a gift. At the moment, text is also becoming prominent in my oeuvre; I am working on a video related to the Iranian poet Forough Farrokhzad. I'm trying to figure out what draws me to her and plan to create a new video work in which she is the conceptual anchor.
Navigate through Elham Rokni's Artist Room
Sumac Space is a venue for raising questions and conversations.
It is updated every Thursday with a new, fresh dialogue/text.
Subscribe to the newsletter to be kept up to date.
Darya Aloufy (b.1992) is an art historian and curator. She holds a BA in History of Art from Tel Aviv University and an MA in History of Art from University College London. Her research focuses on ambivalent narratives of identity and counter-narratives, with special interest in photographic archives as well as women's image. She is currently the Assistant Curator at TAU Gallery.
---
אלהם רוקני – להסתכל דרך הסדק: על זהות מרובדת
שיחה בין האמנית אלהם רוקני ודריה אלופי
את מעידה שהרבה מהעבודות שלך עוסקות בתנועה בדרך כזו או אחרת, בין אם תנועה של מבקשי מקלט ובין אם התנועה שלך עצמך, ובעיקר בתנועה שמוגבלת בגלל סגירות, במיוחד במרחב של המזרח התיכון. תוכלי לפרט על כך?
אני חושבת שזה המם אותי בפעם הראשונה שהבנתי את זה. זה היה בדוקומנטה בקאסל ב 2013 כשראיתי המון עבודות של אמנים מהמזרח התיכון, ממדינות שכנות, שרובם לא פעילים במולדתם אלא באירופה וארה"ב. האבסורד שאני צריכה לנסוע עד גרמניה כדי לראות אמנות שהייתה יכולה להיות כ"כ קרובה אלי. הרי שלפני מאה שנה הגבולות האלה היו פתוחים והרכבת המנדטורית עברה דרך לבנון, סוריה, ירדן, ישראל ומצרים והתנועה הייתה חופשית.
הפוליטיקה שמגבילה את התנועה שלנו זה משהו שמעסיק אותי באופן אישי כמישהי שחיה באיראן וכעת בישראל. יש איזה שהיא הקבלה בין הגבולות המדיניים הסגורים לבין תנועה של מהגרים ופליטים, כלומר הכוחות שמניעים את האדם לנוע ממקומו לעומת התנועה שנעצרת כל הזמן על ידי הגבולות. באיזשהו אופן זה אולי התחבר עם השנים גם למצב הפיסי שלי כיום, להיותי בכסא גלגלים. התנועה של הגוף המוגבל, התנועה של הכסא בעולם, והגבולות השרירותיים במציאות שמגבילים את הכסא.
איפה את מרגישה שהמקום שלך בתוך המרחב המזרח תיכוני?
יש רצף שנקטע בזהות שלי. הקטיעה הזו נשתמרה, ואני לא חושבת שהניסיון שלי הוא לגשר על הקטיעה אלא להסתכל לתוך הבור שנוצר בה. רצף החיים שלי מחולק למחזורי חיים שונים – הרגע שעזבנו את איראן, משם ועד התאונה שלי, ומהתאונה ועד היום. התפיסה העצמית שלי מחולקת לפי זה. הזהות שלי מחולקת – היא הייתה אחת, התווסף לזה עוד משהו, שמוחק את מה שהיה קודם באיזה שהוא מקום. משאיר את הזהות הקודמת קיימת אבל גם בולע אותה. זו זהות מרובדת שהמשקל של הזהות החדשה בה בהכרח גדול יותר, לפחות על פני השטח, גם אם לא בעומק. בעשיה שלי אני מתבוננת באופן ספציפי בקטיעה הראשונה. במעבר מאיראן לישראל. זו כמו רעידת אדמה שיצרה חור באדמה, איזה סדק, שאני עסוקה בלהסתכל לתוכו.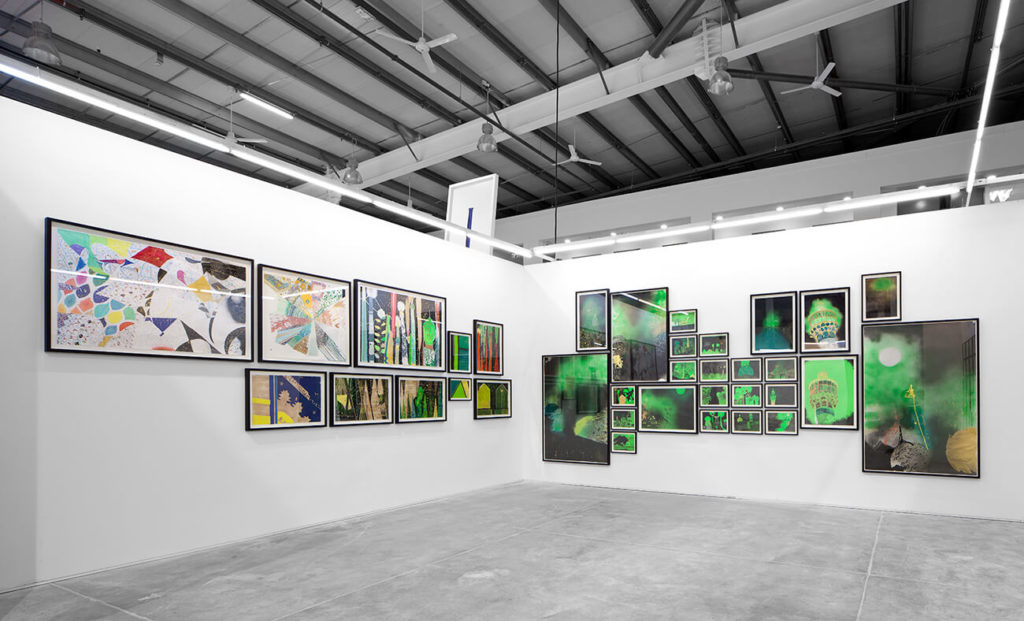 העבודות שלך גם כוללות דווקא את המבט המערבי, האוריינטליסטי, על אף שאת בעצמך מגיעה מהמרחב הזה, המזרח תיכוני. זה קשור לכך שאת רואה בזהות שלך מרובדת? למרחק הזה שנוצר מהזהות הראשונה שלך?
זה בעצם יושב על אותו דבר. המבט האוריינטליסטי בא מזה שהמיקום שלי השתנה, עברתי למדינה שרואה עצמה מערבית, והמבט שלה על המזרח הוא כזה. ואז נוצרת אצלי מעין כפילות – אני מייצרת עבודות שהן הדבר עצמו, אבל אני מייצרת את הדבר עצמו מתוך נקודת מבט שהיא מודעת וביקורתית. אם אני מציירת מסגד – אני באמת מציירת אותו, ואני במקביל יודעת שמה שאני מציירת זה למעשה חיקוי, גם כי מדובר ביצירת אמנות שבבסיסה מחקה את המציאות, וגם בתוך הפרקטיקה של הציור. אני לא באמת הולכת ומסתכלת על שפת הציור של מסגדים ואיך מציירים ערבסק או קליגרפיה, אלא עושה "בכאילו", ויודעת שהעין הלא מיומנת לא תדע לזהות את זה, ותראה את זה כאורנמט מסגד לכל דבר.
זה מזכיר את איך שחושבים על זיכרון, במידה מסוימת. כמשהו שהוא מרובד, שכולל דברים שמנותקים ממה שבאמת היה, כמשהו שהוא לעולם לא הדבר עצמו, או האירוע עצמו, אלא מפולטר על ידי חוויות שונות. נראה שדרך העבודה שלך משקפת את הזיכרונות שלך מאירן, המקום שלך במרחב האירני – כי את לא באמת שם. את לא רואה את המסגד בעיניים, אין לך אופציה כזו
ואני עושה את זה גם באופן מכוון. אני אכתוב טקסט בתוך הציור של המסגד, אבל הוא לא יהיה קריא. הוא עשוי מאותיות בערבית אבל יהיה חסר תוכן. הוא לא יהיה "דבר" או מילה, אלא דימוי-מילה. כלומר, לא רק הפאטרן משובש אלא גם הטקסט משובש. הדבר הזה למעשה מגויס לתוך אידיאולוגיה.
לדוגמה המלפפונים, כשאני יוצרת דימוי-שטיח פרסי אבל כל האלמנטים בו מופיעים כמלפפונים אני מייצרת את אותו שיבוש אבל עם משהו יותר מובהק – המלפפון, ולא איזה שרבוט. אני כל הזמן חוזרת לסדרות של המסגדים או האנשים כי בעצם הפאטרן החוזר שהתחיל בהם, ואח"כ ממשיך בכל העבודות, הוא ציני אבל גם יש בו את הדבר עצמו. למשל סדרת ציורים בשם "ראל מסגדים", שמציעה מניפות מסגדים, הציור הוא גם המסגד עצמו וגם הצבעה על המבט האוריינטליסטי שמשתמש בציור המסגד כקישוט. כמו שאנשים רבים שחיים בישראל בוחרים לשיפוץ הבית שלהם קרמיקה או אלמנטים ״אותנטיים״, כלומר קרמיקה או ציור או קשתות בסגנון ערבי. זה אקט אבסורדי – גם לקחתם את האדמה, גם הרסתם את מה שהיה, גם בניתם מחדש, ועכשיו אתם גם רוצים שזה יראה כאילו זה מפעם. זה המבט האוריינטליסטי שלי. אני מצד אחד משטיחה את הדימויים לכדי משפט או מחשבה, אבל ההשטחה שאני עושה היא כמו ההשטחה שאני רואה שקורית סביבי.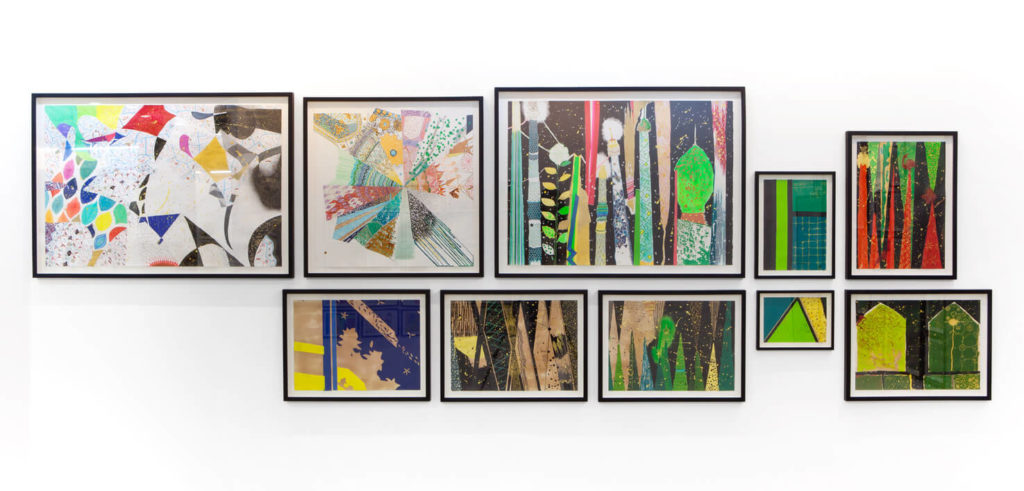 המאבק הזה שבא לידי ביטוי בעבודות שלך אינו נוכח רק בקונטקסט של מזרח מול מערב, אלא גם בתוך מהרחב ה"מזרחי" עצמו, שכן הוא בוחן את הזהות שלך משתי נקודות במזרח התיכון, ישראל ואירן, שיש ביניהן קונטרסט פוליטי גדול מאוד
אני לא באמת איראנית. זאת אומרת, אני שני הדברים האלה בפנטזיה, אבל אני לא באמת איראנית. קודם כל, אין לי אפשרות תנועה איראנית בעולם, במזרח התיכון למשל יכולתי לנוע יותר בקלות איראנית, ואין לי דרכון איראני, כי הוא נלקח מהמשפחה שלי כשהגענו לישראל. אני גם חושבת בעברית, והשיחה עם בני המשפחה שלי היא מעורבבת עם פרסית ועברית. האיראניות שלי היא יותר בין אחיזה שלי, לבין פנטזיה. אין לי מספיק חומר להתבסס עליו.
אם הייתי קוראת יותר בפרסית ונחשפת ליותר תכנים פרסיים ביומיום, יתכן שהייתי מרגישה יותר שייכת. המחסור בשפה מאוד משפיע עלי. אני יודעת לקרוא, לכתוב, לדבר, אבל הכל ברמה די בסיסית. כשאני מדברת עם הבן שלי בבית בפרסית אני כל הזמן מחפשת מילים במילון. אלה לא מילים מסובכות, פשוט מילים שלא בסביבה שלי, אין לי עם מי לדבר בפרסית ביומיום. וכרגע בחיי אני מרגישה שהשפה היא זו שמגדירה אותי. אני מאוד נאחזת בשפה הפרסית כי אני מבינה שזו הדרך שלי לשימור של הזהות הזו. המאמץ העיקרי שלי הוא בהתעקשות שלי לדבר עם בני רק בפרסית בסביבה שמדברת רק עברית. הוא מבין הכל אבל אין את הסיפוק שהוא עונה חזרה – כרגע הוא רק עונה לי בעברית.
מעניין שבתור בנאדם שעוסק בויזואלי, את מוצאת את הזהות שלך דווקא בטקסט ובשפה
כרגע כן. אני מאוד עסוקה בשפה השבורה שלי. לדבר עם ילד בן 3 וחצי פרסית מאיר לי הרבה פערים ולקויות, הרבה פנטזיות שמתנגשות ביומיום ושאלות – למה אני עושה את זה בכלל? וכל מה שקשור אליו קשור גם לעצמי. היחסים שלי איתו והשפה הפרסית בתוך זה, זה השתקפות היחסים שלי עם עצמי בין שתי הזהויות האלה. אני חושבת שאחת הסיבות הראשונות שהיו לי בראש היא שכשאני אזדקן ואהיה דמנטית, ואחזור לדבר רק בשפת האם שלי, שיהיה מי שיבין אותי. יש פה איזה שהוא מעגל של שפת האם שלי שתפגוש את שפת האם שלו. זו חשיבה אנוכית אפילו, זה לא באמת בשבילו. מחשבה מורבידית דרך שפת האם שלי: שכשיש שבר, מה שצף מתוך הסדק זו שפת האם. אז אולי בחרתי לדבר פרסית עם הבן שלי כמשהו שמתחתיו יש איזה לא-מודע אחר. ואולי הלא-מודע הזה הוא הניסיון לקשור אותו למקום הזה, שהוא שלי, ונשבר. כך שהשבר הוא לא רק שבר, הוא גם משהו אחר – הוא מתגלגל ומשתנה, הוא עצוב ומצחיק וגם מתנה במקומות מסוימים. כרגע הטקסט גם נכנס לתוך העבודה שלי בסטודיו – אני עובדת על עבודת וידאו שקשורה למשוררת האיראנית בשם פרוע׳ פרוח׳זאד. אני מנסה להבין מה מושך אותי אליה ומתכננת לעשות עבודת וידאו חדשה שהיא העוגן הרעיוני שלה.
Navigate through Elham Rokni's Artist Room
דריה אלופי (נ. 1992) היא אוצרת וחוקרת. היא השלימה תואר ראשון בתולדות האמנות באוניברסיטת תל אביב ותואר שני בתולדות האמנות ב University College London. המחקר שלה עוסק בנרטיבים אמביוולנטיים של זהות ומתמקד בארכיונים צילומים ובדמות האשה. היא עוזרת האוצרת בגלריה האוניברסיטאית בתל אביב.