Curator's foreword:
When we migrate, what do we arrive at? Palestinian-Colombian artist and craftsman Enrique Yidi has embraced his hometown of Barranquilla as the Arab Capital of the Caribbean. There, he runs Taller Palestina, a workshop specializing in Bethlemite mother-of-pearl crafts, and keeping the tradition very much alive. His work The Arrival portrays the moment in which an imaginary Arab family reaches Puerto Colombia, the gateway to the Americas for many Levantine families since the late 19th century. In the mother-of-pearl piece, he combines emeralds, and miscellaneous materials to include an Arab mother with her two children, a Palenquera lady selling fruits, a paisa man from the countryside, two immigration officials, as well as native Colombian flora, fauna, gold and even the flag. This may well be an arrival to Colombia, to the Americas, and also an arrival to a hyphenated history that was yet to exist.
Fun fact: the Spanish word for mother-of-pearl is nácar, from the Arabic نقر, which alludes to something being hollow, round and concave, and also hit repeatedly like a drum.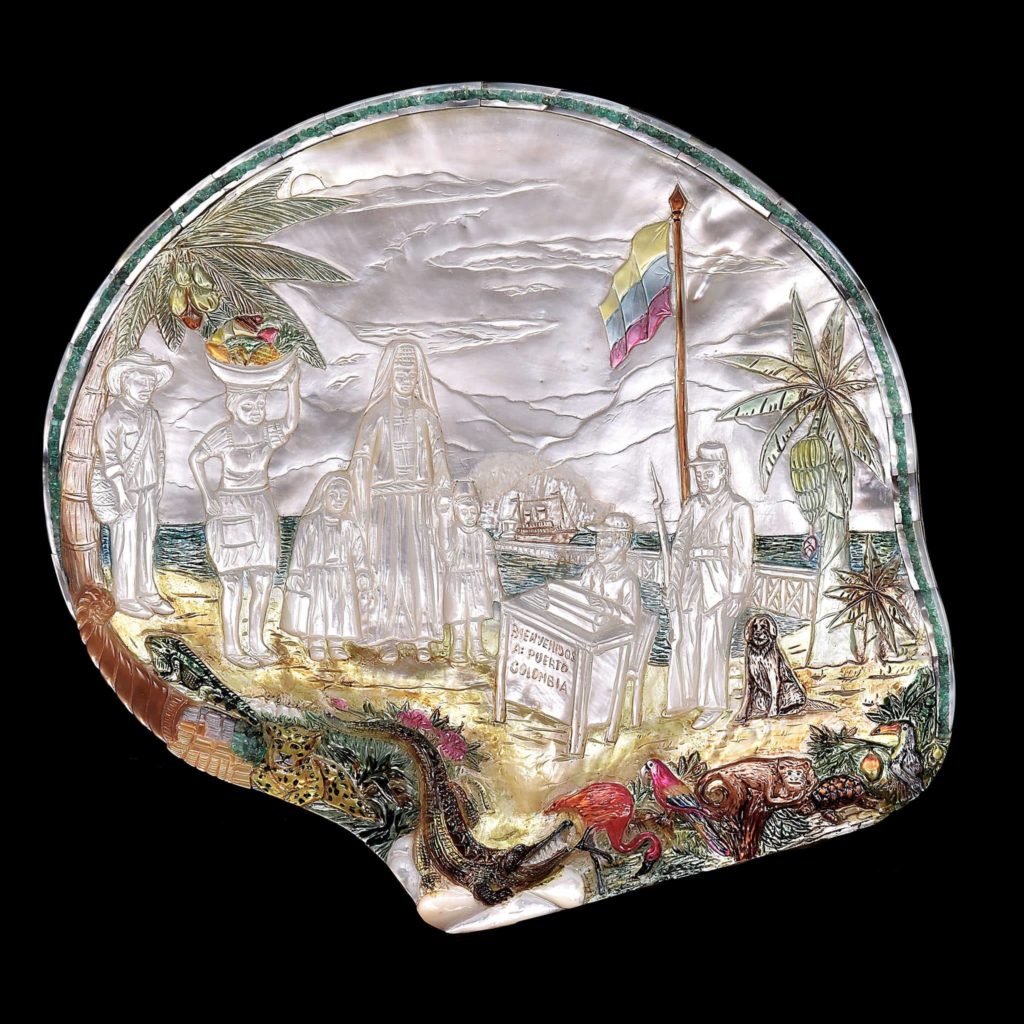 [What motivated me to work with mother-of-pearl was] to rescue this ancient Palestinian legacy that extinguished in the early '70s, when traditional artists aged and passed away, and there was no generational handover given the migration of the Yamcan, Zougby, and Lama families. At this time, the last masters that resisted migrating from Bethlehem began closing down their workshops because many of their children and workers migrated to the Americas for a better future. There was no handover of the craft and the techniques.
This motivated me to create Taller Palestina. But also, undoubtedly, my main motivation was the Jurassic Park film in 1993, where a group of scientists revived a species that had already been extinguished from the Earth. I thought that my mission was to revive this artform to transplant it back to Palestine, and for it to become again the staple craft that gave pride and prestige to Bethlehem for 500 years ever since its creation. [There were] trips, acquaintance with techniques to recover, and astonishment with the idea of learning from amber, and extracting the DNA [of the technique] to create [with mother-of-pearl].
From Palestine I learned the basic technique, but I found interest in integrating millenary techniques of other civilizations and gave myself the task of traveling to several Arab, Asian, and European countries seeking to learn their techniques and blending them into Palestinian mother-of-pearl craft. I went to Thailand, Syria, China, Egypt, France, and Italy, to learn techniques from all over the world, because there was [almost] nobody in Palestine to ask. That enabled me to understand and rebuild this artform. From Colombia, I learned how to use color, given that, during the 500 years of this artform in Bethlehem, the most used mother-of-pearl was the white Australian type and the Red Sea one for textured carvings.
Having been born in the city of Barranquilla, by the Colombian Caribbean sea, where there is an amalgamation of cultures with African, Indigenous, European, Asian and Middle Eastern roots celebrating the second largest carnival in the world, there is plenty of color. I began adding [to my monochromatic work] multiple colors extracted from multiple marine species [of mother-of-pearl] found all over the world. This, in turn, created a new trend in contemporary Palestinian craft.
_ Enrique Yidi