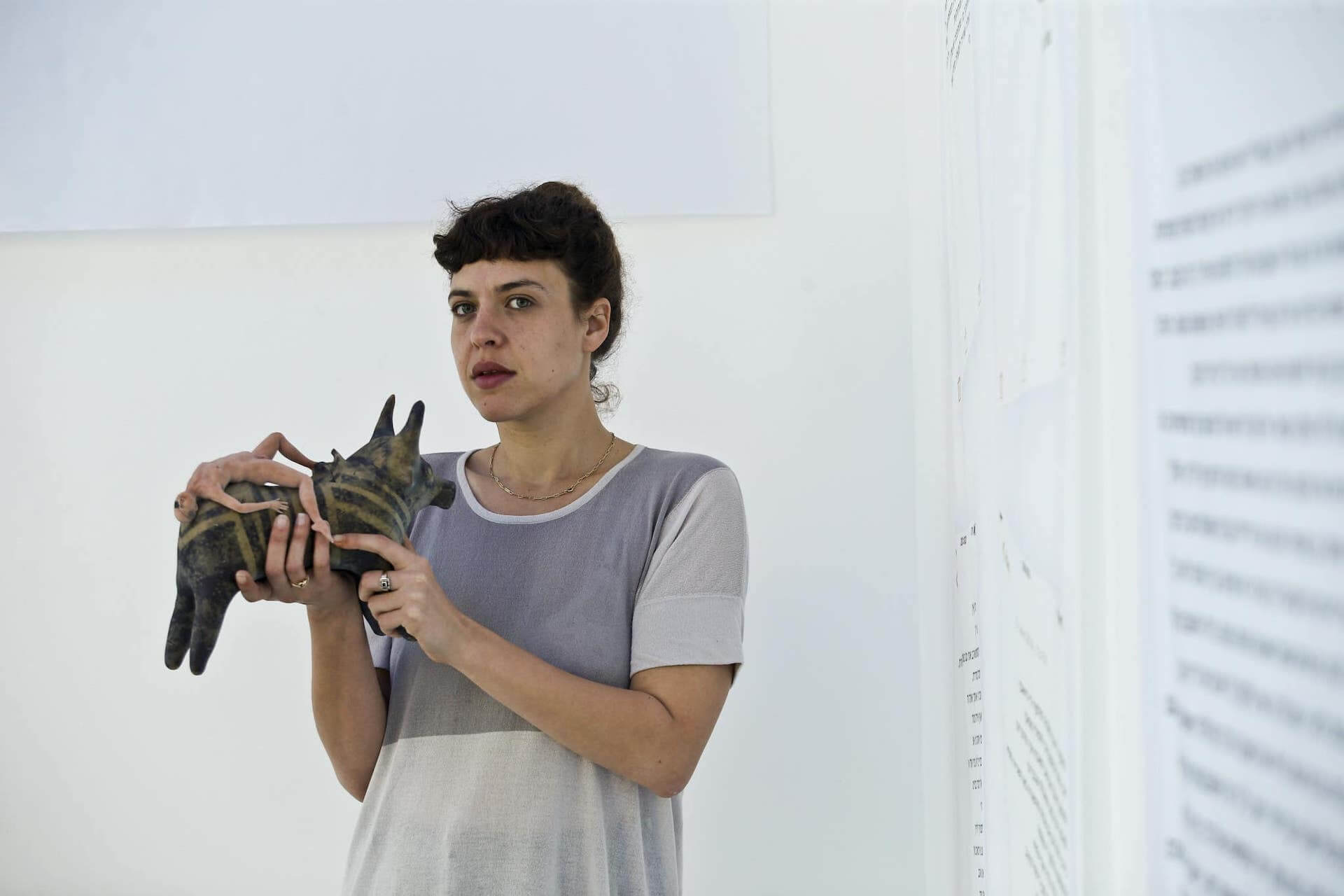 Ruth Patir, b.1984, New York, USA.
Lives and works in Tel Aviv.
Ruth Patir holds a BFA in fine arts from Bezalel Academy of Arts and Design, Jerusalem, and an MFA in visual arts (new genres) from Columbia University, New York, USA.
The works of the multimedia artist and filmmaker deal with gender paradigms and power relations, often mixing historical and national narratives with the artist's own autobiography. In her work, Patir expands the boundaries of representation in the digital age working against the gender and racial biases that populate the field of animation, 3D simulations and artificial intelligence.
Patir's work has been the subject of solo exhibitions at Copperfield Gallery, London, and Hamidrasha Gallery, Tel Aviv. It has been featured in esteemed film festivals around the world including the Jerusalem Film Festival and the New Directors/New Films festival at the Museum of Modern Art and Lincoln Center, New York. Her work has furthermore been part of numerous group exhibitions such as Nonfinito at Artport Gallery, Tel Aviv (2020); Hope There's Someone (To Touch) at Catinca Tabacaru Gallery, New York (2020); Stumbling Through the Uncanny Valley: Sculpture and Self in the Age of Computer Generated Imagery at CCA Tel Aviv (2019); and Manifesta 11 in Zurich, Switzerland. Her work is included in several private collections around the world.
She is the recipient of the Young Video Artist prize from the Israel Ministry of Culture (2018) and was a member of the Artport Residency program, sponsored by the Arison Foundation (2019–2020).
The Exterminating Angel, Luis Buñuel's 1962 film, is one of those films that is so unique and mysterious I can always keep rewatching it. Last time I saw it was while making my recent film "Petah Tikva", because I remembered there were some interesting animalistic parallels to my own, and a bear and two sheep.
The film, made by Buñuel during his second exile to Mexico, is a surreal satire about a group of upper-class dinner guests who get mysteriously trapped in their hosts' living room for a long period of time. The reason for them being stuck remains unclear, and cannot be helped by anyone. And so, as the plot continues and time passes, the bourgeoisie characters start to fall apart, losing their dignity and grace. They become savages, fighting, killing and going at each other like children.
It is made in Bunuel's famous style, and is filled with surreal references, looping scenes that are repetitive and decorated with ritualistic occurrences that aim to challenge the idea of belief. Thus the film is an illustration of the bestiality and savagery waiting to erupt inside political oppression. And it follows how the civilized upper-class behavior can collapse instantaneously when drama occurs. I think the animals in this film, much like the animals in John Berger's Why Look at Animals (1972), are there as representations of the human condition and as metaphors for nature overcoming nurture. This is made evident especially at the end of the film, in its final shot, when a flock of sheep enter a church where a new group of bourgeoisies are trapped. By doing so, Bunuel transforms all the characters in the film to a flock in need of a shepherd.