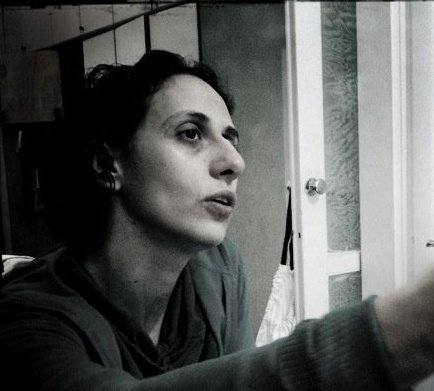 Elham Rokni, b. 1980, Tehran, Iran.
Lives and works in Tel Aviv, Israel.
Born in Iran just after the Islamic Revolution, Rokni immigrated to Israel at the age of 9. She is a graduate of Bezalel Academy's BFA (2007) and MFA (2010) programs and has been a professor at the Bezalel Academy art department since 2013.
Rokni's work is dedicated to the exploration of the relationship between memories, space and movement, specifically among refugees and immigrants. She examines the entry of immigrants into the space of memory for the purpose of reconnecting to one's past, and the emotional reaction to this space. In her drawings and paintings the artist repeatedly constructs and deconstructs patterns, colors and shapes that have to do with her childhood memories and family albums. Series such as Rugs, Wallpapers, Mosque RAL, Green Nights, Abbas and Khalili Sisters present generic and Orientalist representations of the Islamic world and create hybrids of Middle Eastern and Western cultures.
In her recent practice, Rokni is preoccupied with connecting her personal experience as an immigrant to urgent political and ethical issues. She sees the migration of asylum seekers and refugees to Israel as another instance of movement that is a continuation of previous waves of immigration to this country. More generally, Rokni explores the actions and notions of accessibility and free movement in relation to the dialectical development of the globalized world; namely, on the one hand, she considers the free movement of goods, services and a limited number of people, and on the other hand, the fortified nations and communities, surrounded by separation walls and other barriers, abound with racism and fear.
Rokni has participated in many solo and group exhibitions and film festivals worldwide. She has received various grants and awards, and her work can be found in public and private collections.
Wind-Up Doll
Even more, oh yes,
one can remain silent even more.
Inside eternal hours
one can fix lifeless eyes
on the smoke of a cigarette,
on a cup's form,
the carpet's faded flowers,
or on imaginary writings on the wall.
With stiff claws one can whisk
the curtains aside, look outside.
It's streaming rain.
A child with a balloon bouquet
cowers beneath a canopy. A rickety cart
flees the deserted square in haste.
One can remain fixed in one place, here
beside this curtain…but deaf, but blind.
With an alien voice, utterly false,
one can cry out: I love!
In the oppressive arms of a man
one can be a robust, beautiful female–
skin like leather tablecloth,
breasts large and hard.
One can stain the sinlessness of love
in the bed of a drunk, a madman, a tramp.
One can cunningly belittle
every perplexing puzzle.
Alone, occupy oneself with crosswords,
content with unimportant words,
yes, unimportant letters, no more than five or six.
One can spend a lifetime kneeling,
head bowed,
before the cold altar of the Imams,
find God inside an anonymous grave,
faith in a few paltry coins.
One can rot inside a mosque's chamber,
an old woman, prayers dripping from lips.
Whatever the equation, one can always be a zero,
yielding nothing, whether added, subtracted, or multiplied.
One can think your eyes are buttons from an old ragged shoe
caught in a web of anger.
One can evaporate like water from one's own gutter.
With shame one can hide a beautiful moment
like a dark, comic instant photo
rammed deep into a wooden chest.
Inside a day's empty frame one can mount
the portrait of a condemned, a vanquished,
a crucified. Cover the gaps in the walls
with silly, meaningless drawings.
Like a wind-up doll one can look out
at the world through glass eyes,
spend years inside a felt box,
body stuffed with straw,
wrapped in layers of dainty lace.
With every salacious squeeze of one's hand,
for no reason one can cry:
Ah, how blessed, how happy I am!
_Forough Farrokhzad
The cave scene from Abbas Kiarostami's film The Wind Will Carry Us reminded me of the allegory of the cave by Plato. The main character, Behzad, a male TV director who came to the village to document a local mourning ceremony, goes into a cellar to get some milk from Zeynab, a 16 year old village girl, and brings her the knowledge, the light of poetry, a poem by Forough Farrokhzad.
Behzad flirts with Zeynab, and the act of milking becomes somehow erotic. He implies that he saw her with Yousef, her fiancé, during their private meeting at the well. The cellar's darkness reminds him of a poem by Farrokhzad that he quotes from:
هدیه
من از نهایت شب حرف میزنم
من از نهایت تاریک
و از نهایت شب حرف میزنم
اگر به خانۀ من آمدی برای من ای مهربان چراغ بیاور
و یک دریچه که از آن
به ازدحام کوچۀ خوشبخت بنگرم
It's a poetic and violent scene. He insists on seeing her face; she refuses. He lies and says that he is her fiancé's boss, he asks her name even though he already knows it, and even his recitation of Farrokhzad's poem is somehow violent.
I met Mohsen Makhmalbaf during the Jerusalem Film Festival, when he showed his film The Gardener (2012) in 2013. I asked him to recite The Wind Will Carry Us by Farrokhzad for a video installation I made for a solo exhibition I had at the Tel Aviv Museum of Art a few months later.
He agreed to read Farrokhzad's poem, but not the one I asked (did he know that I will replace him with the other Iranian film director I liked, trying to recreate the cave scene?), and chose his own favorite poem by Farrokhzad, Wind-Up Doll.
A few months later I discovered that Ebrahim Golestan, who was Farrokhzad's lover for many years, had an eleven-day affair in 1970 with Dahlia Ravikovitch, an Israeli poet.
The Wind Will Carry Us

In my night, so brief, alas
The wind is about to meet the leaves.
My night so brief is filled with devastating anguish
Hark! Do you hear the whisper of the shadows?
This happiness feels foreign to me.
I am accustomed to despair.
Hark! Do you hear the whisper of the shadows?
There, in the night, something is happening
The moon is red and anxious.
And, clinging to this roof
That could collapse at any moment,
The clouds, like a crowd of mourning women,
Await the birth of the rain.
One second, and then nothing.
Behind this window,
The night trembles
And the earth stops spinning.
Behind this window, a stranger
Worries about me and you.
You in your greenery,
Lay your hands – those burning memories –
On my loving hands.
And entrust your lips, replete with life's warmth,
To the touch of my loving lips
The wind will carry us!
The wind will carry us!
_Forough Farrokhzad
Mechanical Doll
Dahlia Ravikovitch

And that night I was a mechanical doll
and I turned right and left, to all sides
and I fell on my face and broke to bits,
and they tried to put me together with skillful hands
And then I went back to being a correct doll
and all my manners were studied and compliant.
But by then I was a different kind of doll
like a wounded twig hanging by a tendril.
And then I went to dance at a ball,
but they left me in the company of cats and dogs
even though all my steps were measured and patterned.
And I had golden hair and I had blue eyes
and I had a dress the color of the flowers in the garden
and I had a straw hat decorated with a cherry.

Translated from the original Hebrew by Karen Alkalay-Gut.